Photographer Spotlight with Richard Wood Photography
We recently sat down with award-winning photographer Richard Wood to discuss his most recent success at WPPI's Annual Competition this year. Not only did he win 1st place in both Illustrative and Contemporary Portraits but he was also awarded the Grand Award for Creative Portrait Division – which is comprised of Commercial, Fashion & Beauty, Illustrative, Landscape, Portrait Contemporary, Pre-Wedding Contemporary, and Wedding Contemporary Portraits.

In addition to his most recent awards, Richard has won dozens of awards at NZIPP including Grand Master and Professional Photographer of the Year, placing at WPE, and is the Head Judge of The Portrait Masters Awards.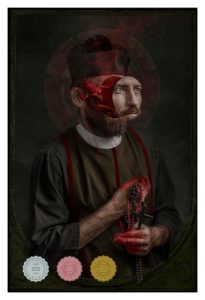 Title: UNTITLED
Inspiration: "I wanted to illustrate someone "struggling with themselves" I guess we call it "inner demons."
An extremely exaggerated way for me to achieve this and for it to be recognized in a short amount of time by judges was to choose an exaggerated way of displaying this. I decided to use a man of the church to demonstrate a strong belief system being challenged."
Q: What was your first portrait?
A: It was a couple of friends sitting on the back of a truck at a Cub Scouts Camp. I took my mother's old Box Brownie with me.  There was actually a camp photography competition which was why I took a camera. I was awarded 2nd place.
Q: How do you prepare for your projects? Do you have an idea in your mind before you start?
A: The idea has always been defined visually in my head. This for me is the biggest part. I spend hours contemplating first the initial concept and then how it's going to look. I don't really write anything down. It's all in my head.
I gather the props required, whether it be online shopping, or simply collecting around me. From here I decide on who the subject is going to be. Sometimes it's a face and sometimes it's an attitude I'm looking for. I find actors can work very well. I have a 'go-to' hairstylist and makeup artist. From here it's arranging a day and time to embark on the vision. I'm very lucky to have a good group of people that are always so keen to help create my visions.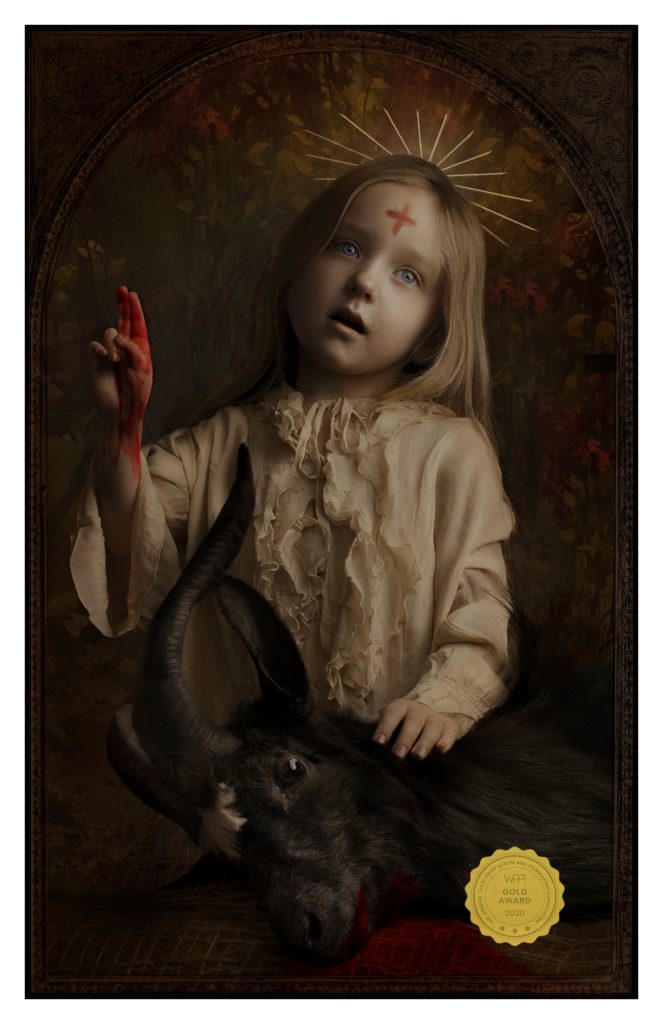 Title: SCAPEGOAT
Inspiration:  "Initially I wanted to illustrate the interesting beginnings of the phrase scapegoat. It was started as a religious practice where a goat was laden with the sins of people and banished into the wild where supposedly the devil would devour it.  The idea of showing a devil with this goat felt to be too dark, and too objective. I wanted to take on a more subjective approach and started to think about what the most unexpected appearance the devil could take, instead of the renowned red man with horns and a tail. So I used a child."
Q: What words would you use to describe your photography style? 
A: Many would say dark and creepy. But I say deep, meaningful and full of subtle allegory.  I enjoy the poet Isra Al Thibeh's quote about the moon. "It doesn't steal the night, it only unveils the beauty of the dark.
Q: What inspires your unique storytelling?
A: Gosh, so much! I love history. So many fascinating events and characters with interesting stories have happened over time. Studying and reading about certain figures from the past can be very inspiring in terms of trying to illustrate their story graphically whether it be historically, abstractly, or with my own twist.
Philosophies and theologies also intrigue me. I love to deconstruct them and create images from their ideas. Sometimes I will simply start with an object I love the look of. Something I think would make an interesting photo or story.
I take this prop and then create a project around it. Taking a simple object and deconstronstructing it whether it be it's meaning, purpose, aesthetic and research around what its story could be, often leads to exciting ideas."
Q: What has made you a great photographer?
A: Entering awards and consistently pushing myself to create better through that process.
Learning through having my own work critiqued by my peers and listening to other peoples' work also being critiqued. Awards systems are invaluable when it comes to bettering your craft.  So often as photographers we can get stuck creating images that are 'good enough'.
When we are entering awards, we are constantly striving for greatness. And this, in turn, reflects in our own day to day work as well. For me, awards are not so much about the trophies and accolades as many clients don't care too much about that. What they do care for however is your standard of work. This makes awards such a powerful tool.
Q: What has been the biggest compliment you've received during your career?
A: There are two. One from early on in my career and one more recent.
The first I received around 20 years ago from a friend's father who's farm I was doing some work on. I took a picture of his daughter playing with some puppies on the lawn. Processed it in the darkroom and gave the print as a gift. Through watery eyes, his words were, "you'll be a household name someday, my boy"  These words were something I held on to for years and I often used them as encouragement and a goal set in those initial years of trying to become good at what I loved.
The second from recent times was from Sue Bryce as she introduced me to the world, saying, "he is, without doubt, one of the most extraordinary photographers in the world."  You see, I had been following Sue since 2011 when she completely inspired me whilst presenting on stage in New Zealand. I watched her fame and talent grow and grow. She made my day once just by 'liking' an image I posted online – haha!  So to then go on to hear those words come from someone I admired so much, was the best compliment ever.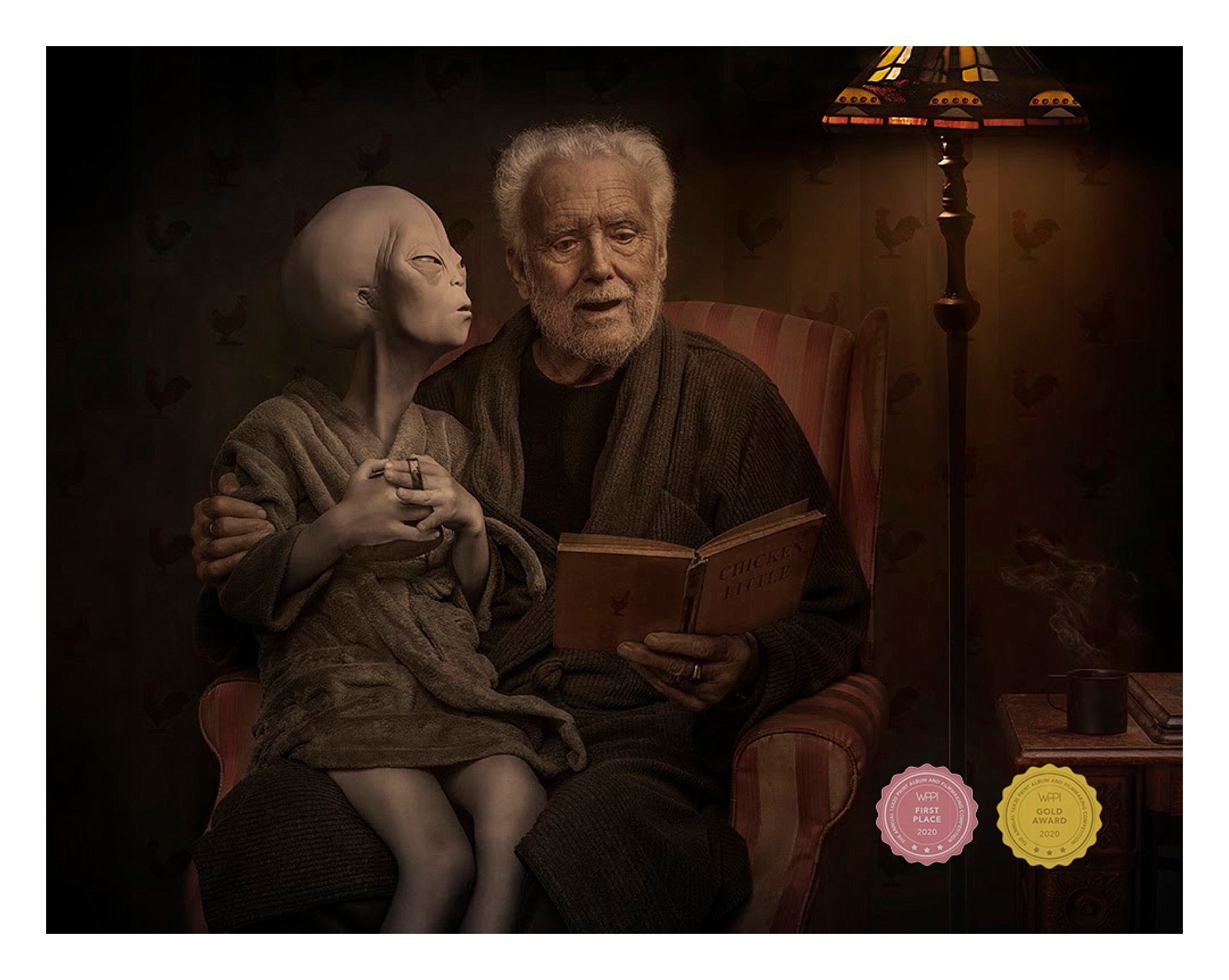 Title: THE ALIEN AND THE FARMER
Q: Do you have a favorite photograph or series?
A: My favorite series is that of the Farmer and the Alien. So far it's a series of three. I do look back on the earlier ones I cringe a little but I'm loving the story and I still have no idea where it's going. Every year or two I reintroduce these two characters and add to their adventure. It starts out with an image depicting a farmer who has gone outside to investigate a noise and discovered an alien stealing his chickens.
To be honest I have not much recollection of where and how I developed this story but it did start with me finding an alien bust online and I knew I could create something out of this world with it.  The second image goes on to show that the Farmer and Alien have made friends and he has invited the Alien into his home for a meal of roast chicken.
The final image of the series, the Farmer seems to have adopted the Alien-like child and shows the Alien wrapped up warm on the Farmer's knee with a hot chocolate, being read a bedtime story. The chicken element is hidden in the image through the patterns on the wallpaper and the title of the book being read which also tells the story further of the Farmer's love of chickens.
It's such a nonsensical story as such but full of whimsy and I'm really enjoying creating from something so outside of the box.
Q: How long do you spend editing your images?
A: This really varies depending on the image. Sometimes just an hour and others have taken me days. I don't do the large scale ones all in one hit. I often find walking away and coming back to with fresh eyes allows me to notice things I hadn't before. 
Over time my editing time has definitely become much faster. Which is great as it means that my more simple domestic painterly style images I can often get done in around 20 minutes. So working on these bigger projects and awards images have sped me up considerably in my day to day work. Time is money."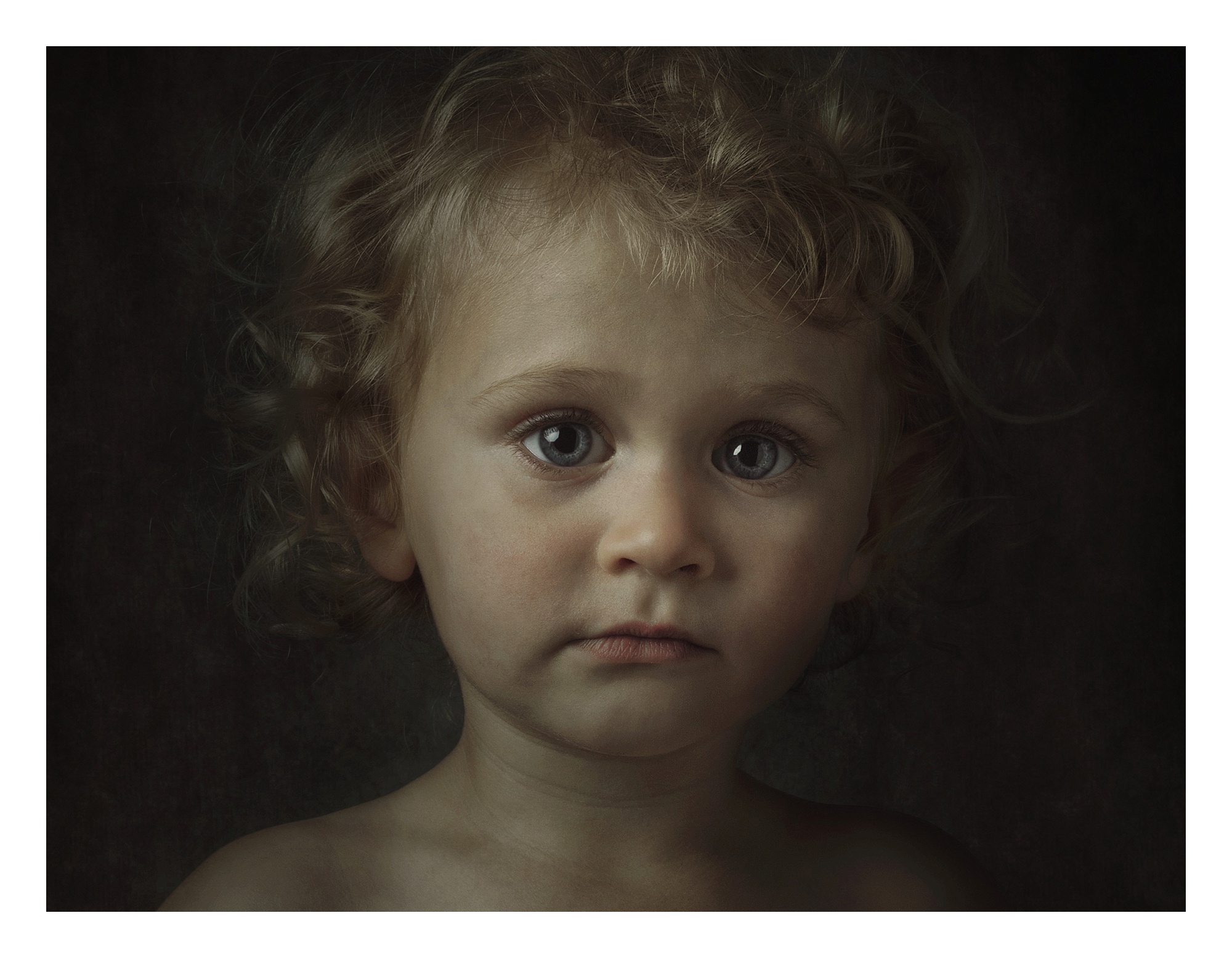 Q: What if you had to choose one photo as your legacy?
A: This photo of my daughter aged 2.5 years. It's very in the moment and unposed. However, captures the incredible beauty I see in her. The look she has in those huge eyes is the same look she gave me the first night I had her home after being born. It was a special moment between a father and daughter in the middle of the night when mum was having some rest. We lay staring at each other. This same look I remember shines through in her eyes in this portrait and I'll never stop loving it. I know that she will also continue to grow old with it and also her own children and grandchildren.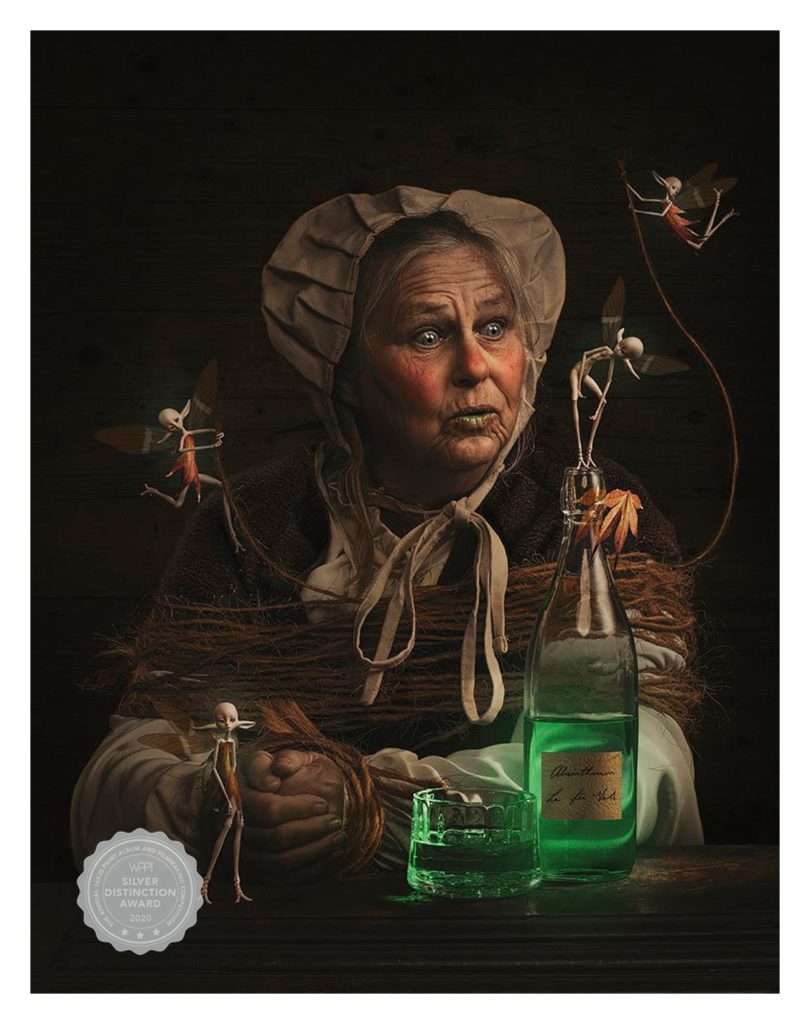 Title: THE GREEN FAIRY
Inspiration: "This image is a humorous take on the idea of the Green Fairy. The Green Fairy was a nickname given to the drink Absinthe in France. Originally the drink also had hallucinative qualities. Here a woman has overindulged and finds herself bound and being toyed with by fairies. Her expression leads the eye to a fairy who has accidentally dropped its leaf dress giving the woman quite the view and surprise amongst her already distressing situation."
Q: If you weren't a photographer, what would you be doing? 
A: I shudder to think!  When I left school, I completed a 3-year bachelor's degree in business and marketing. I kind of developed a quick interest in photography through that and decided to study it. I completed a 4 year Bachelor of Design which I involved a strong emphasis in photography, yet I actually majored in Visual Communication Studies (Graphic Design). So I guess, if not photography, possibly marketing or still a graphic designer creating page layouts, and logos, etc. This is what I did when I left university before deciding to step out and take on photography full time in 2009.
Q: For someone starting their photography career, what advice would you have for them?
A: Maintain self-belief. Honestly, if you saw the images I was creating at the beginning, you'd see there is no special gift there I was born with. Strive for the top. To do this, you have to also love what you're doing. So make sure you're creating what you absolutely love!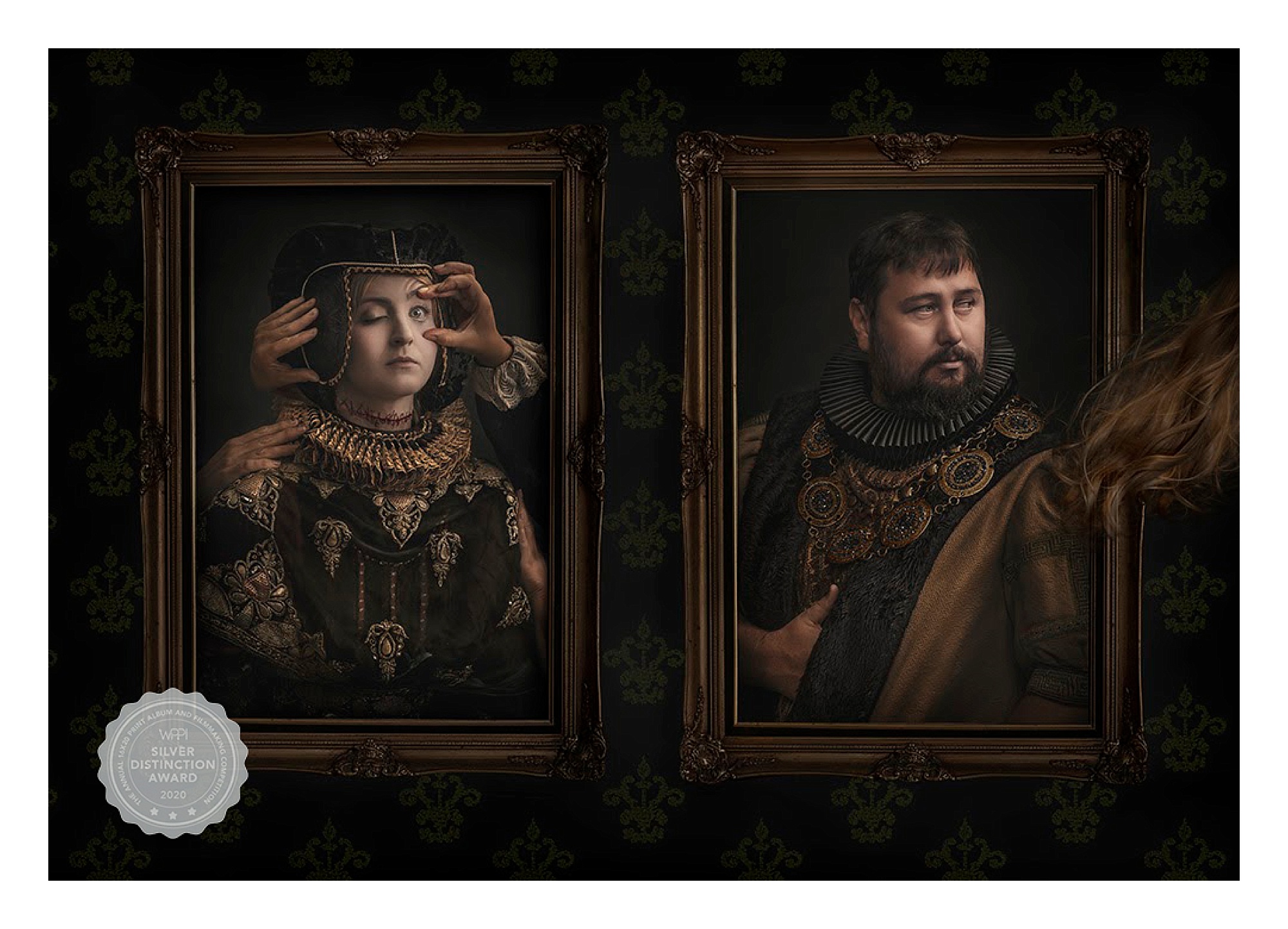 Title: KING HENRY 8TH – The Royal Portrait
Inspiration: "Here we have the Royal Portraits of King Henry the 8th and one of his misfortunate wives. It appears that they were too late for the portrait and it was overlooked."
Q: What goals do you have next for yourself?
A: That's a tough question right now as I've just ticked off my top of the goal list by winning two categories and a division at WPPI!  I don't really know how to take that higher rather than just keep trying to do it again and again. What I do know is that I'll still continue to develop my craft and strive to be the best I can be. I'll still be taking on creative projects and involving myself in awards. I'm also very much enjoying 'giving back' at the moment. I love teaching and helping others to develop their craft. I had the most beautiful feedback this morning, which makes me know I'm making a difference for others too now. It's a great feeling.
---
We congratulate Richard on all of his awards, they are well deserved!
Read Behind The Prints for a full description of Richard's creative concepts. 
---
Richard Wood of Richard Wood Photography
Richard is a Grand Master of New Zealand's NZIPP. He has been awarded the title of New Zealand Professional Photographer of the Year (overall winner of the New Zealand Iris Awards) three times. These accolades head the long list of titles and awards received from organizations and competitions around the world. Richard works as an educator, mentor, and judge for photographic industry professionals around the world. Richard is the head judge of Portrait Master Awards and an educator at The Portrait Masters.
Follow Richard: Instagram – Facebook – Website – Portrait Masters Store