ELEVATE YOUR BUSINESS
WITH HELP FROM A REAL ATTORNEY
As a creative, the legal components to your business can sometimes be that one big hurdle that just feels impossible to get over! So, to help our premium members, we are introducing legal forms designed and developed by actual attorneys. These downloadable plug-n-play templates are ready for use the second you get your hands on them. It's time get back to doing what you do best — making amazing images. Leave the legal mumbo-jumbo to us.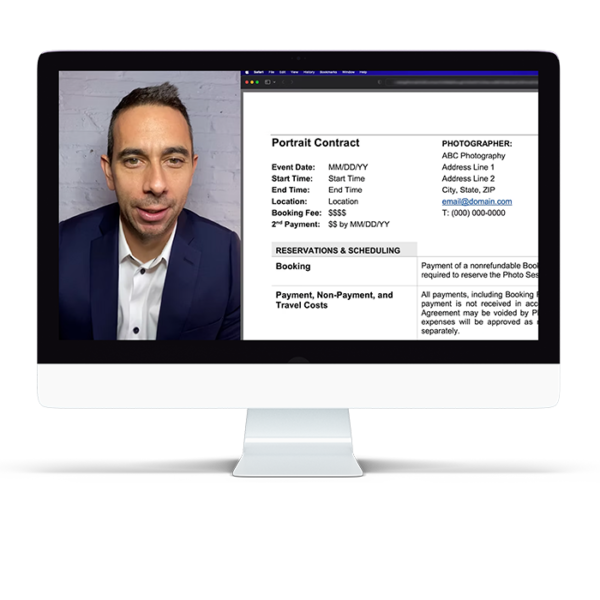 CONTRACT TEMPLATES EXCLUSIVELY FOR OUR
PREMIUM MEMBERS

As a Premium Member of The Portrait System, you have exclusive access to three contract templates created by Attorney Aaron M. Arce Stark: a Portrait Contract, a Model Release, and a Photo Licensing Agreement. Each contract template comes as a downloadable, editable file so that you can tailor it your business.
The Contract Templates course includes 6 downloads and 3 detailed videos, where Aaron will walk you through each template.
ACCESS THE CONTRACT TEMPLATES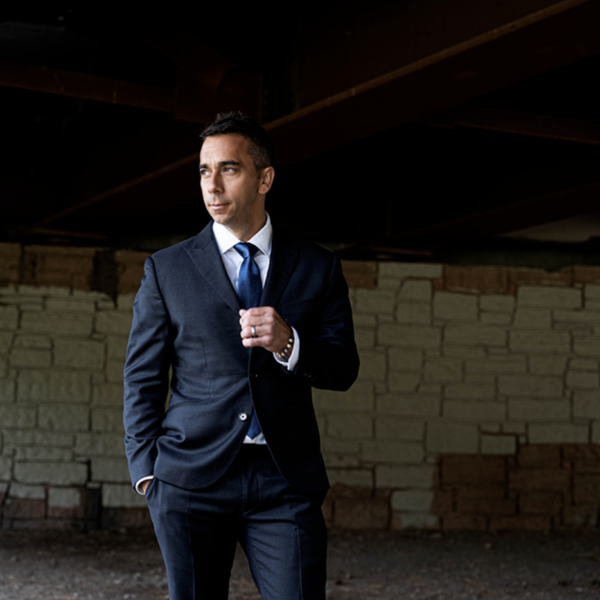 ABOUT ATTORNEY AARON M. ARCE STARK
Since founding his own practice in 2014, Aaron M. Arce Stark has built a reputation of solving complex problems for his clients. These clients have come to expect a collaborative and creative approach to achieving their goals. Aaron has represented clients in state and federal litigation and before federal regulatory bodies, including the U.S. Patent & Trademark Office (USPTO). Much of Aaron's work is in developing a strong offensive posture to reduce the likelihood of future (and costly) litigation. Aaron frequently serves as a speaker at conferences and his work has been featured in various media outlets—including a recurring series in Rangefinder, a publication dedicated to professional wedding and portrait photography. While his work is concentrated in serving small business owners and creative professionals, Aaron has taken on a variety of litigation matters. Aaron currently lives in Washington, D.C. with his wife and twin children.
FREQUENTLY ASKED QUESTIONS
Q: Do these documents work Internationally?
A: For the most part it's not an issue. These agreements should be viewed as a mutual understanding between the photographer and their client, and also as a road map of what to do in the event an issue arises – for example, if the client cancels or the photographer can't make it to the shoot. These agreements address those issues.
But where things are going to be different depending on the country is mainly with copyright law – but for the most part, in all these countries, the photographer is the owner of their images and has various rights available to them in order to protect their images from misuse. Now what is considered "misuse" may vary from country to country, the type of rights may also vary from country to country – and how those rights attach and are enforced will also vary. But our contracts don't go into those details because we put in their that construction of the agreement will be based on the law of where the photographer is located.
Q: Does these agreements cover me from all issues I could face?:
A: Bottomline is there is no one size fits all. But, with that in mind, it was our goal to draft an easy to read agreement that covered all of the major common problems photographers face, while making it general enough to hopefully cover the more specific or unforseen problems that could arise. If items are specifically addressed many of the clauses in these agreements are broad enough to cover most issues. Agin, as always, if you have more specific items not addressed in these documents, we encourage you to contact an attorney to build something for your specific needs.