Service and Connection with Lenka Jones

Episode 76
: Lenka Jones
In Episode 76 of the Portrait System Podcast, Nikki Closser speaks with Lenka Jones of Lenka Jones Portraits in the UK. Lenka shares her career evolution – from being a young movie casting agent in Slovakia to finding a niche as a wedding photographer in the UK. She also describes that pivotal moment of finding Sue Bryce Education and how that encounter opened the way for her to manifest her dreams of bringing glamour photography to everyday women – especially moms. Throughout it all, Lenka's focus has been on providing remarkable service and an unparalleled experience that encourages her clients to share the good news about her business.
Be sure to listen to the whole podcast to hear all about how being an introvert can be a super power for making genuine connections with people. As well, you won't want to miss hearing more about Lenka's ethos of how being a lifelong learner increases your value and your offerings to your clients and the world.
In this blog, you'll find some of Lenka's stunning pictures, links to her presence on the web, and inspiring answers to bonus questions.
Get to Know Lenka Jones
Q: Making a connection with your subject is one of the most important parts of a great portrait. How do you make lasting connections with your clients?
A: For me, connection with my subject is one of the most important parts, and it's something that can elevate a good portrait to a great portrait! I'm not looking for a technically perfect capture, elaborate set, or expensive wardrobe. When I look at a portrait, I want to FEEL something – I want to feel intrigued, moved, interested in the person that I see. I believe that connection is something that I earn as photographer by being genuinely interested in my subject, and this starts with the first consultation. You're building this trust between you and your subject. My goal for every single session is to take the best portraits that my client has ever seen of herself, and that is what I want to achieve every time. I want to take my client on a journey, create a safe space where she feels seen and heard, and once she trusts me and lets her guard down, I capture her beautiful light with my camera and then show it back to her. I'm very lucky, because most of my clients stay in touch and become my friends!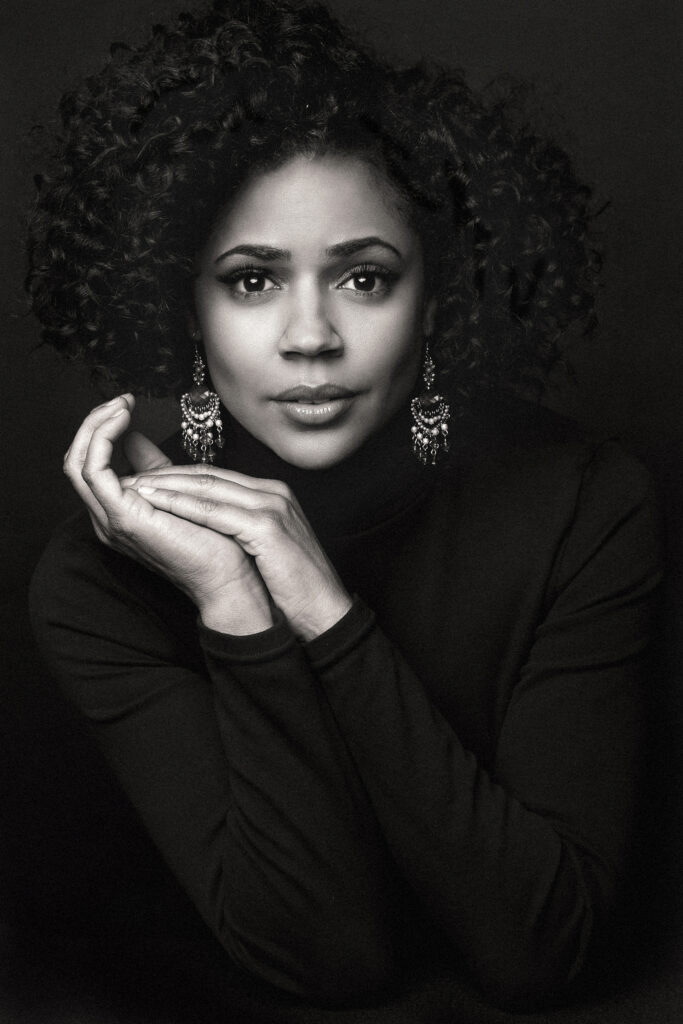 Q: Most artists have a point in their life when they knew this was meant for them. Do you have that moment?
A: Absolutely! For me, that point in my life was when I came across one of Sue Bryce's classes! I remember it very clearly, because that was the day when I found my true calling and purpose. Watching Sue capturing magic with her camera and hearing her speak, moved me to tears, and I realized that empowering women by capturing their beauty is what I want to do! I was a wedding and newborn photographer at the time, and I was dreaming about doing photoshoots for women but struggled to find a way to market those type of shoots. I kept thinking, surely, brides have a reason for a photo shoot, actresses have a reason to have their new headshots done, but why would an everyday woman book a photo shoot, have her make up and hair done, just to have beautiful portraits of herself? Sue has this amazing energy about her that is truly captivating and makes you believe that you can do anything that you put your mind to. She showed me the way and gave me the blueprint, and that is why I will always be grateful for having her as a mentor.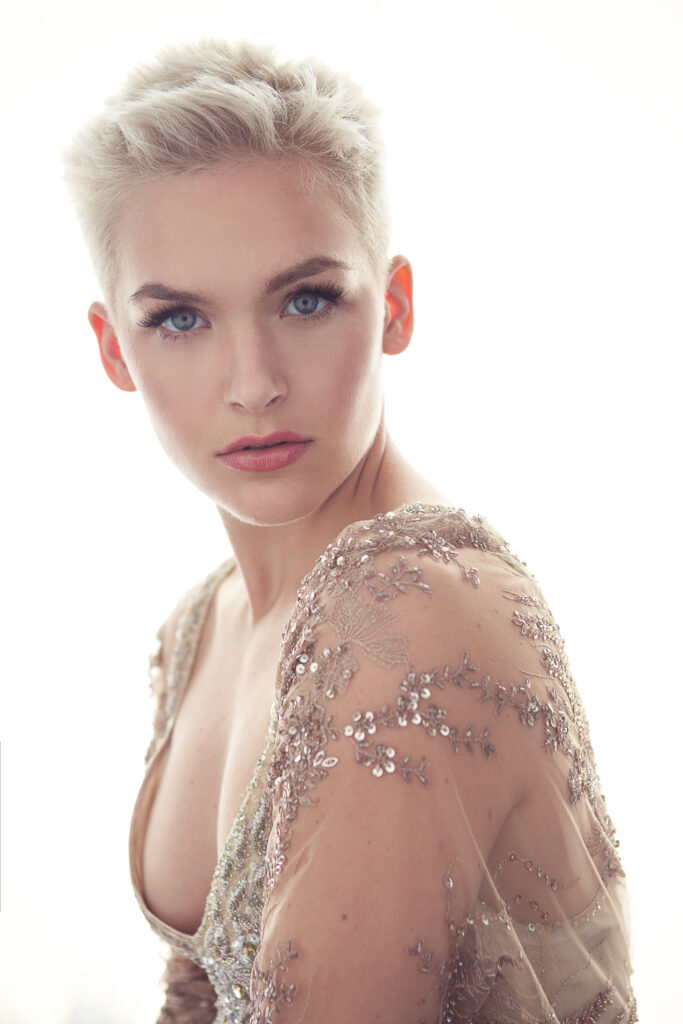 Q:  What has been your biggest accomplishment since starting Sue Bryce Education?
A: SBE has changed my life and business, and I wouldn't be where I am now if it wasn't for SBE! I have met the most amazing people, made friends for life, and quite frankly, found my tribe here. My biggest accomplishment since starting SBE has been achieving my Master accreditation at TPM and becoming an official mentor for SBE! I love being able to help others, give back, and support other photographers who are on the same journey that I was on a few years ago!
Q: What is your average sale currently?
A: My average sale is £2,300.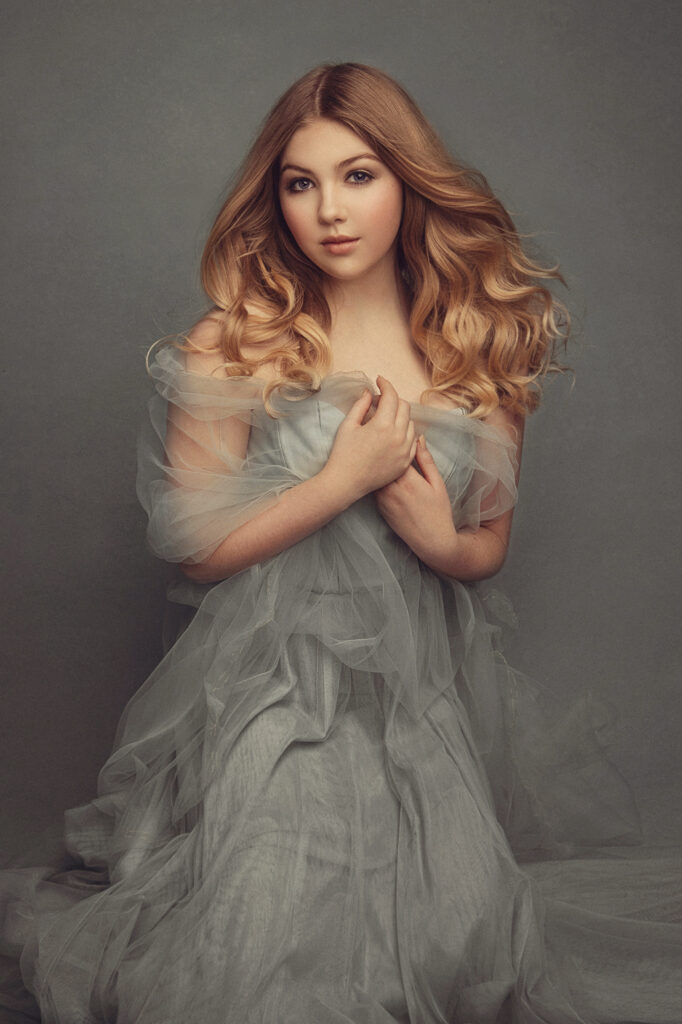 Q: Where do you see your business in the next 5 years?
A: Right now, I'm busy working on my 40-over-40 project, which I absolutely love! Being back in the studio and shooting again feels amazing! 2020 has been hard for all of us, and I really missed shooting. Having the right mindset has really helped me in the past 12 months – if you can stay positive in a negative situation, you win. Instead of complaining about what I couldn't do, I have focused my energy on education, learning new skills, making new connections, masterminding, and building my brand. Self-development and learning are one of my top values, and I'd like to continue to develop my skills, so that I can better serve my portrait clients and better support and mentor SBE students. In the next 5 years, I would be delighted to see more photographers from the UK and worldwide building sustainable and profitable businesses! I see so many photographers who take beautiful photos but struggle financially because they have these limiting beliefs that are holding them back! I feel very grateful because thanks to SBE, I can now help others on their journey and share my experience – whether it's mindset, marketing, branding, or folio-building photoshoots. Sue has transformed my life, and that's why I will always recommend SBE to anyone who is serious about photography and wants to build a profitable business of their dreams. I'm also passionate about female empowerment, collaborations, and travel, so combining them all in an amazing mastermind retreat somewhere nice is on my list, too!!
---
Subscribe to The Podcast
ART19 – Spotify – Stitcher – TuneIn – RadioPublic – Apple Podcast
---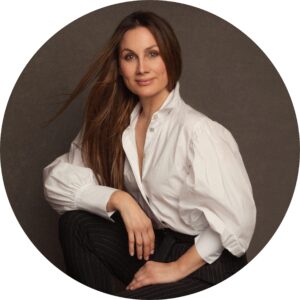 Lenka Jones of Lenka Jones Portrait