Sue Bryce Education and The Portrait Masters Join Forces with Emerald's Photo Group to Grow Photography Education Community Globally
Our mission at SBE and TPM has always been to provide photographers around the world with the tools and support needed to build their brands, confidence, and income—to not only improve their businesses, but to inspire them to create their own unique path and walk towards it with certainty and conviction.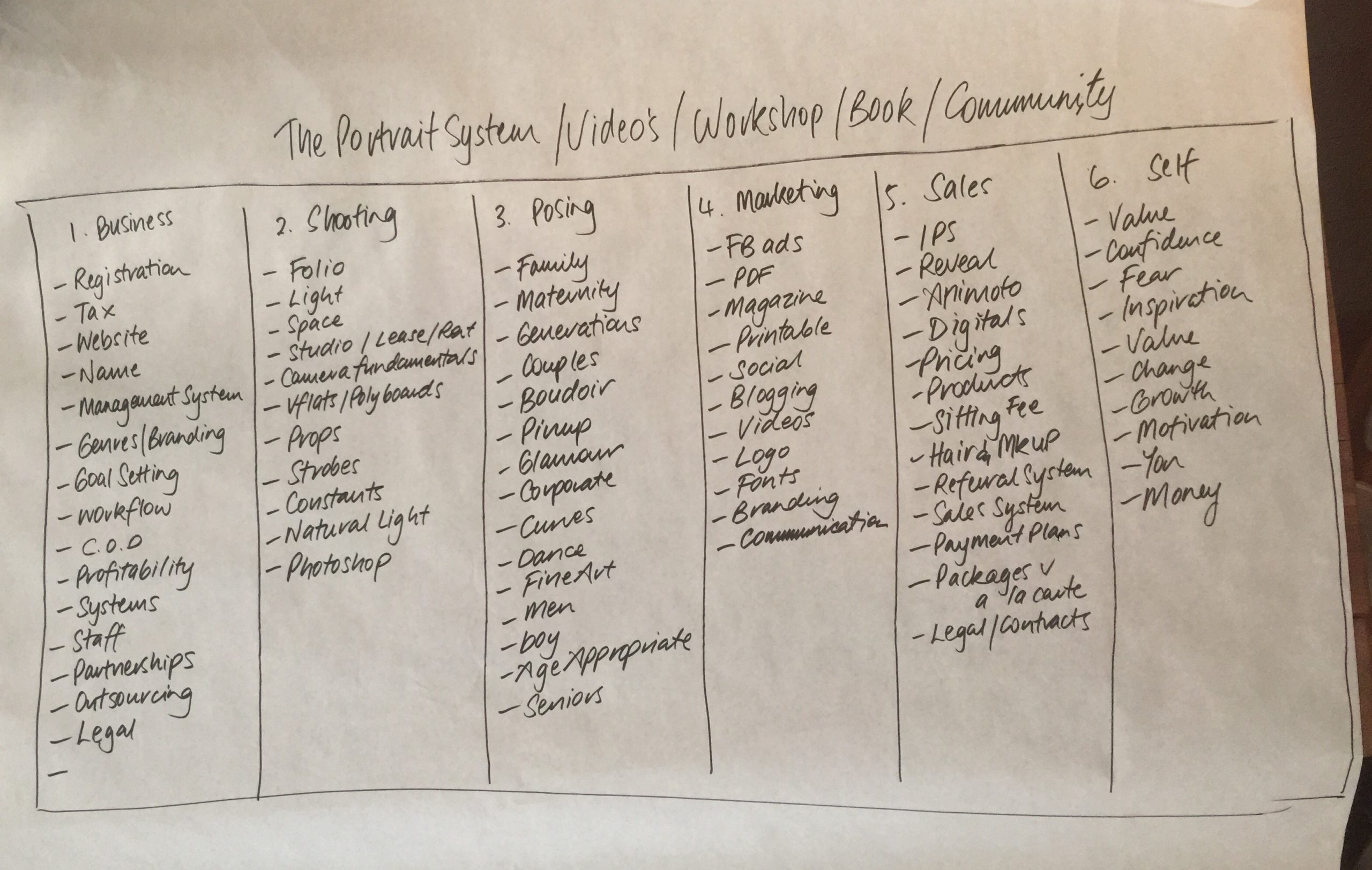 Since Sue Bryce Education began in 2015, we have witnessed the life-changing impact a growing community has on photographers who otherwise wouldn't have had the opportunity to connect with one another, both in-person and online. Over the past 6 years, we are humbled by over 28,000 total members from all over the world who have come through the SBE platform.
As we continue to grow our mission and community, we are thrilled to announce that we are joining forces with Emerald through their acquisition of Sue Bryce Education and The Portrait Masters.
By joining forces, Sue Bryce Education and The Portrait Masters become the newest additions to Emerald's existing photography brands, including PHOTOPLUS, the largest photography and imaging event in North America, and Rangefinder + WPPI (Wedding & Portrait Photographers International), the daily content hub and annual event for portrait and wedding photographers.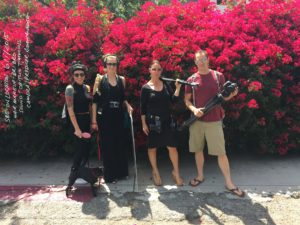 Together, we know we can help even more photographers build the businesses and lives they love!
Our teaming up with Emerald's Photo Group further highlights Sue Bryce's natural synergy and a full-circle experience with WPPI + Rangefinder, where some of Sue's very first teaching experiences took place a decade ago, and where George Varanakis worked as EVP for several years.
A closer look at how it all started, and how it's going: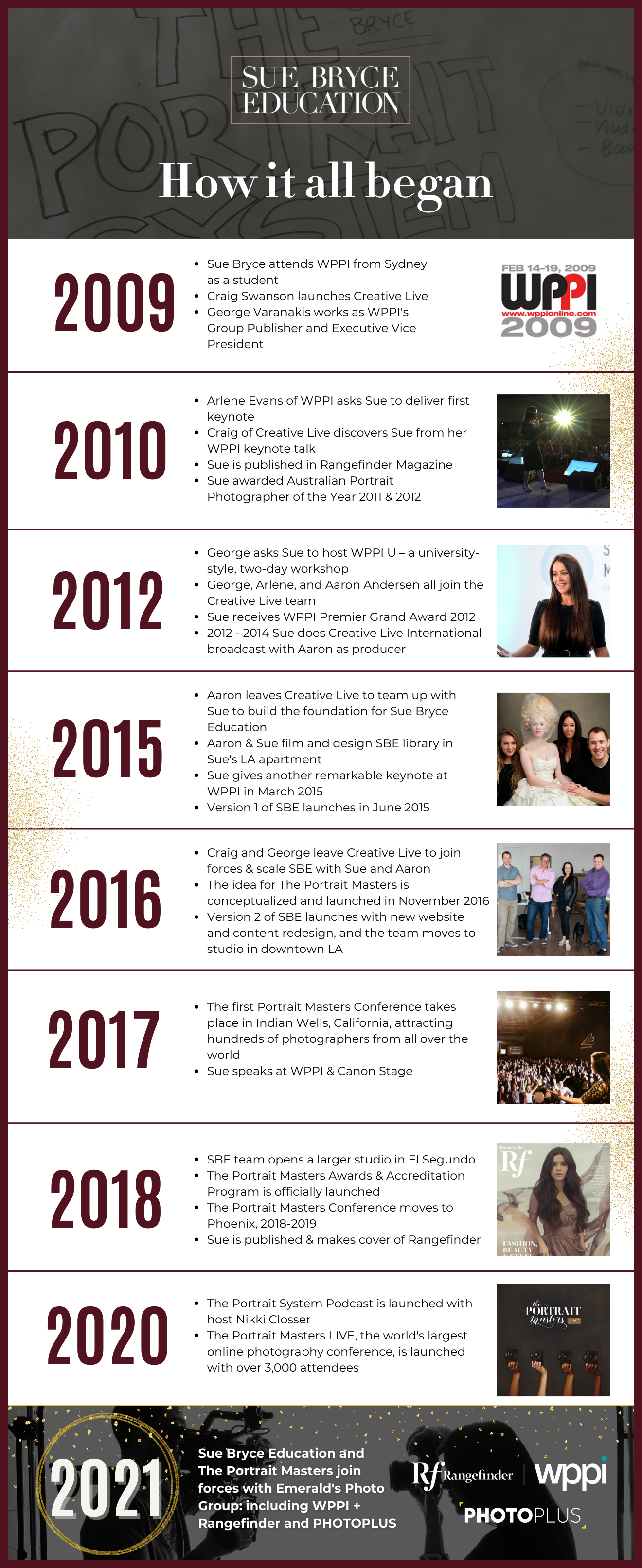 A quick walk down memory lane
---
A few words from the founders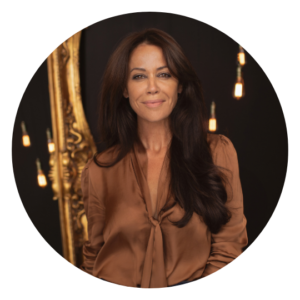 "HOW did this uneducated, barefoot Kiwi chick get here?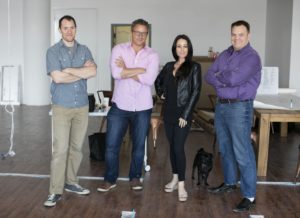 Certainty and conviction for sure; and a strong bias for action that is driven by a fire inside me to show people how to see their value. I had a deep need to create content that empowered my portrait clients, which in turn empowered me to build this incredible little business thriving in my garage in Karaka, New Zealand.
I became an educator because I truly loved the business model I created, the journey of being self employed, and the personal growth and transformation this brought to my life—and I needed to share that.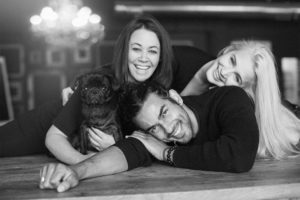 The creation of SBE and TPM, a business and community I am so proud of, was done on the shoulders of giants: George Varanakis, Craig Swanson and Aaron Andersen. When someone else sees your vision and they believe in you, it gives you permission to step forward, and I wouldn't have done it without them.
Last but certainly not least: my team, the mentors, moderators, instructors and of course THE MEMBERS, you make our community so great. I have never seen anything like it."
---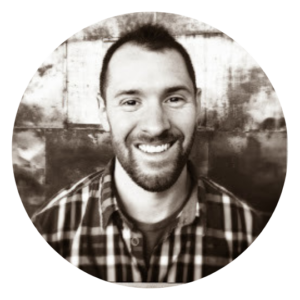 "It's honestly so wild to know how much has been accomplished in so little time. I know it's cliché, but it really does feel like yesterday when it was just a team of 4 of us (Sue, Caitlin, me, and my wife Tessa) in a studio we set up in Sue's apartment, where we worked together for half a year off of grit, passion, Sue's vision, and a lot of take-out.
Little did I know, we were embarking on the most challenging, but ultimately, the most rewarding thing I'd do in my career.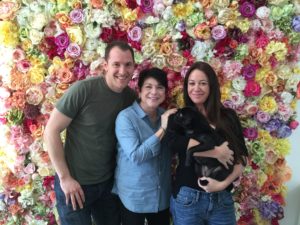 The success of SBE was all built off of teamwork; everyone in our crew has drive, optimism, creativity, and works together with enthusiasm. Being the lucky guy who gets to lead them, whether at the conference or workshop, has been one of the biggest privileges of my life.
I also built my family while building this business, and as baby number 2 is on the way, my joy overflows to now being able to partner with Emerald. I cannot wait to start collaborating with the amazing team at Emerald and WPPI, planning out our always evolving and exciting ideas we have for current and future students, mentors, instructors, members, and anyone looking to be inspired by photography. This is gonna be a blast!
My mantra is to always build things to be bigger than the sum of their parts – and I can safely say, we've been doing that for years now, and I'm excited to keep that mantra in motion!"
---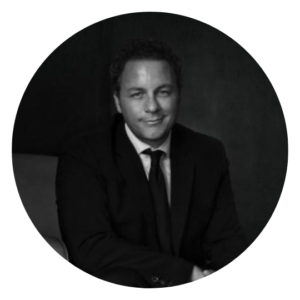 "This has been the most fun I've ever had in my career. Innovating has always been our mantra. The TPM Conferences and the The Portrait Masters LIVE online conference we did in 2020 were the highlights for me. Coming up with new and exciting ways to make our conference better for our community each and every year was a blast.
Looking back throughout my career, I was always working for someone else; and finally having the guts to do it on my own has satisfied me in ways I never imagined. And I couldn't have done it without any of the partners. We all complimented each other so well throughout the growth of SBE and TPM, and each bring something unique to the table. It has been a fantastic ride.
I'm looking forward to working with the team at Emerald and growing what we've already built. Plus, I've known the Emerald's photo team for a long time and am so excited to work alongside them!"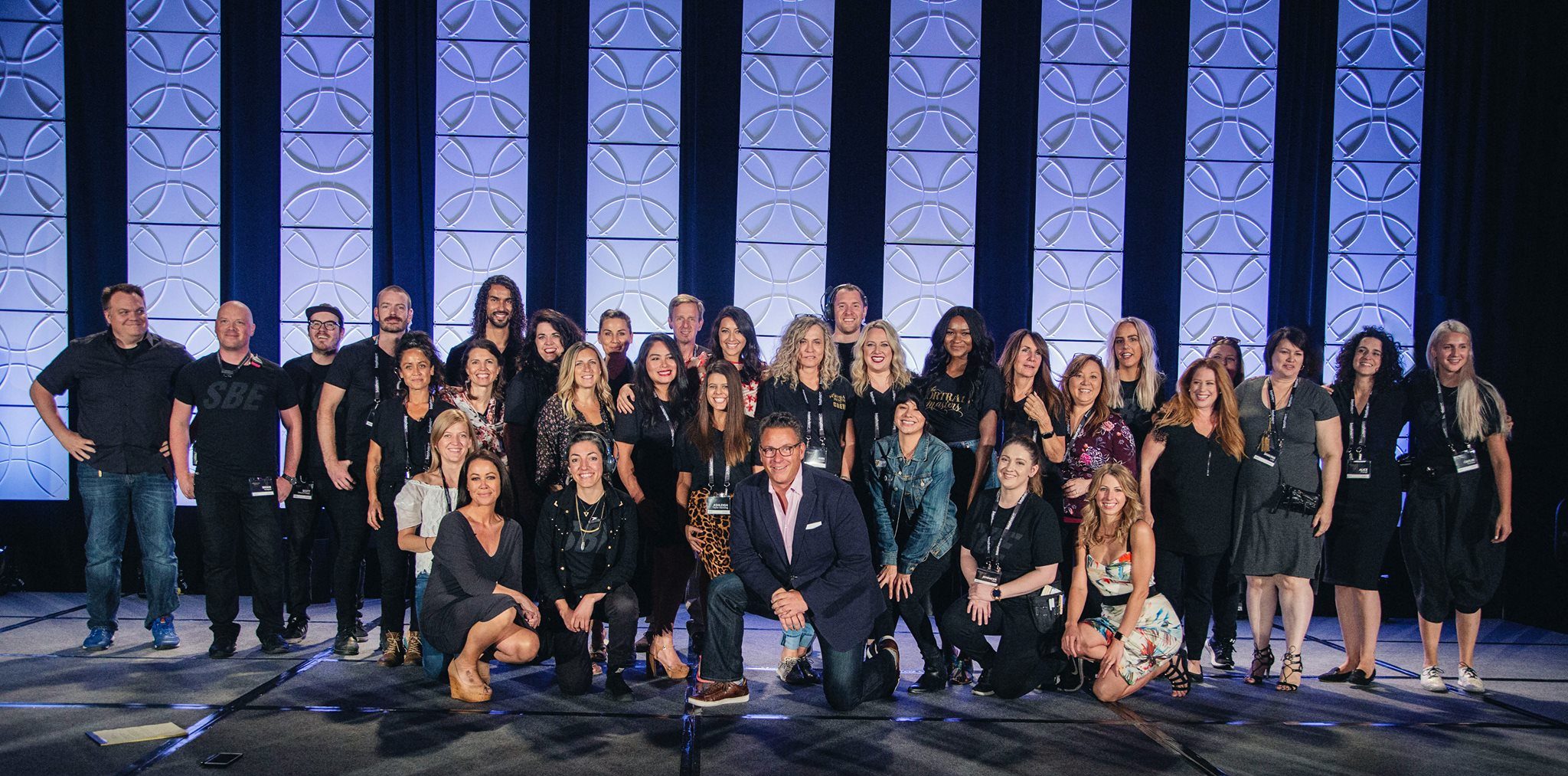 ---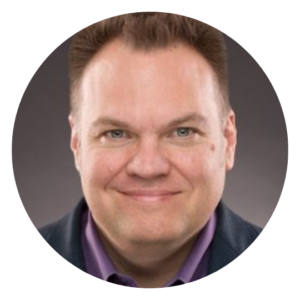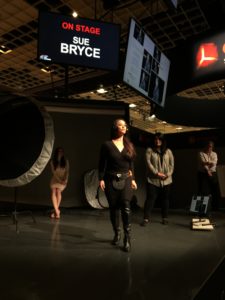 "Building Sue Bryce Education with Sue, George, and Aaron has been one of the most prolific, creative, professional, and self-discovery experiences of my life.
I remember sitting exhausted with Sue in Seattle in April 2012 the day after her first workshop at CreativeLive. That weekend changed everything, and jump-started a transformational decade of creating and building online learning platforms with Sue.
There is something fitting and magical that we'll be celebrating our first decade of creation while joining the team at WPPI and Emerald. WPPI is where we met in person the very first time — and when I met George, he was running WPPI.
I can't wait to see what is next on this journey!"
---
Listen to The Portrait System Podcast: Special Announcement from George, Sue, Aaron and Craig
---
FAQs
Why is the acquisition happening?
Short answer is: Because simply, we're stronger together.
Long answer is: Because we've actually been working together in the background for years. As you probably know, Sue's been working with George, Craig, and Aaron since 2015 to bring you everything you know as SBE and TPM, but between those 4 players, we've all been closely tied to many things in the industry for nearly a decade. Sue got her start in the public space at WPPI and WPPI U back in 2009 when George was also running WPPI at the time. So, to put it another way: it was really just a matter of time before we worked together on a larger scale—and that time happens to be now!
This is an incredible opportunity to further serve the SBE/TPM community. We have accomplished great things on our own in the past 5 years and joining forces with WPPI + Rangefinder is only going to make our community stronger, allow us to provide even more to our members, and deliver the most comprehensive education and support for you and your brand as possible. We are genuinely excited to bring our communities closer together to continue providing you with world class education from the best educators on the planet.
What does this mean for me as a member of SBE or with my TPM classes?
Everything about your SBE Membership / TPM Store account / TPM Awards & Accreditation status will remain the same.
Who will lead SBE now? Will Sue still be involved?
SBE will still be run by the exact same team you're used to interacting with, with the addition of  leadership from WPPI + Rangefinder! You'll see Sue just as much as you always have, through various videos added to the library + the monthly live broadcast. George, Craig, and Aaron will continue to help as the primary leaders behind the scenes for everything else.
Will there still be a TPM conference?
The Portrait Masters Conference will return, but the date is yet to be determined.
Will anything change with TPM Awards and Accreditation?
Nope, plans are for it to stay the same – and hopefully it's only going to become even more awesome!
Who is Emerald?
Emerald is a leader in building dynamic, market-driven business-to-business platforms that integrate live events with a broad array of industry insights, digital tools, and data-focused solutions to create uniquely rich experiences. With over 140 events each year, their teams are creators and connectors who are thoroughly immersed in the industries they serve and committed to supporting the communities in which they operate.
Who is WPPI + Rangefinder?
Rangefinder and Wedding & Portrait Photographers Intl (WPPI) connect a community of professional portrait and wedding photographers with the education they need and the tools which help them create.
WPPI is a conference and tradeshow for wedding and portrait photographers held annually in Las Vegas. Rangefinder is the premier online content hub for the professional photographer focusing on the wedding and portrait markets. Both brands operate under their parent company, Emerald.
Who is PHOTOPLUS?
PHOTOPLUS is the largest photography and imaging event in North America. It is the ultimate experience for anyone with an interest in photo, video, and visual storytelling to get up-to-date with latest industry trends.