Here it Comes! Portrait Masters Conference This September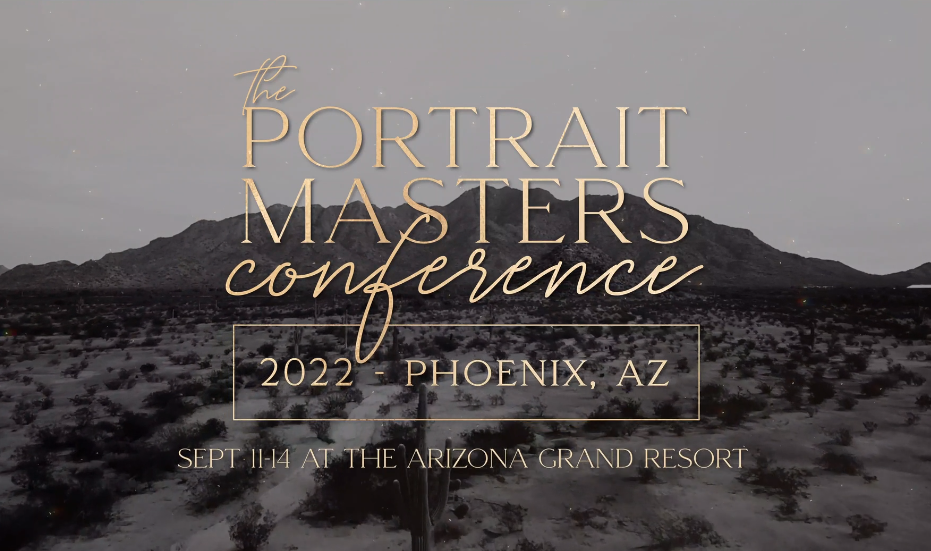 It's Conference Time!
We've waited two long years to be able to gather together again for our beloved community learning extravaganza, The Portrait Masters Conference. At long last, it's Conference time!
This coming September — Sunday the 11th through Wednesday the 14th — we'll have the run of the incredibly gorgeous Arizona Grand Resort. It'll be 4 days jam-packed with phenomenal speakers, valuable demonstrations, hands-on learning with world-class instructors, priceless opportunities to build your portfolio, awesome deals on all kinds of gear, and did we mention, parties? Oh yes, there will be parties, too.
You'll get to meet friends — new and old, network with peers and mentors, and relax and unwind in a fabulous location. We've packed so much value into these tickets. If you can grab one up, you'll be so glad you made the investment in yourself and your business. We hope to see you there!
Read on to find out more!
"It feels exciting and exhilarating to be planning this right now. I'm just absolutely counting down the days till we get there. I will see you in Arizona in September for the Portrait Masters Conference."
— Sue Bryce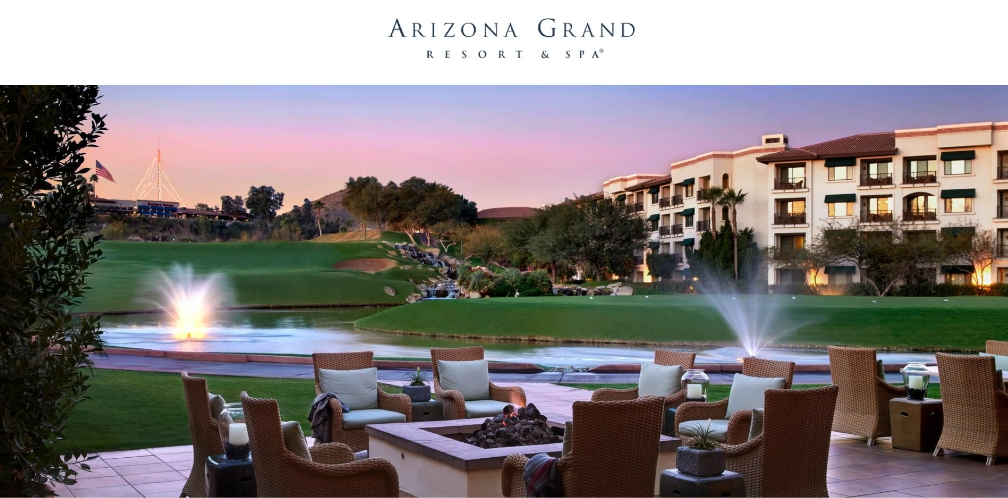 Get 'em While They're Hot!
Tickets are currently on offer for the Conference, and they're going fast.
You might be thinking, "Well, what do I get with an All-Access Pass?" Let me tell you, it's a lot.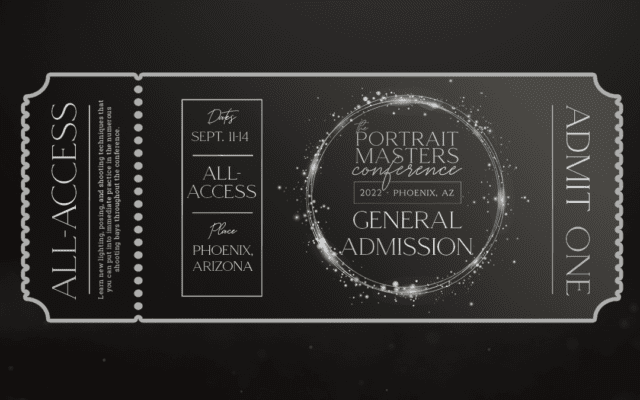 All the Access in the All Access Pass
Imagine waking up at the gorgeous Arizona Grand Resort, perhaps teeing up for an early game of golf, taking a refreshing morning swim, or floating down the lazy river. Just make sure you're back inside with plenty of time for the mornings' events. Along with your bathing suit and your golf cleats, make sure you pack your favorite pen and notepad because you're going to want to take lots of notes when these inspiring world-class teachers take the main stage — two every morning. You'll also get to see featured instructors go head-to-head for a Shootout. Three photographers will photograph one model, and you'll get to vote on who did it best. Just some friendly competition to fire up your appetite before you head to lunch!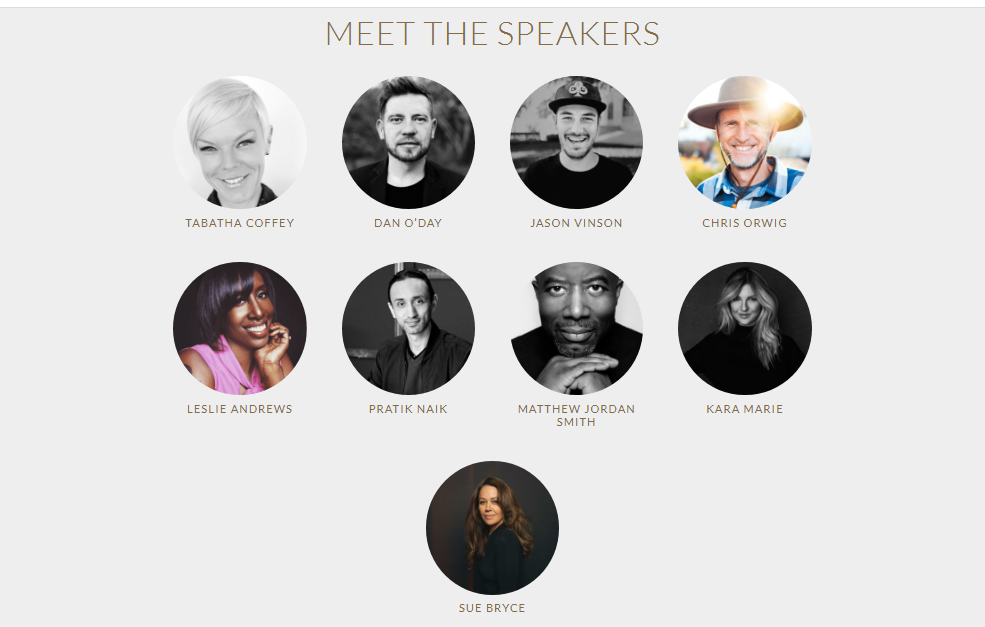 Next, you'll want to mosey along for your complimentary lunch, included in your ticket. You'll be rubbing elbows with Conference leaders, meeting old friends, and making new ones as you get your nourishment to prepare you for an afternoon of choosing your own adventure with all the hands-on learning opportunities lined up for you.
Make sure to check out the Trade Show to learn about and try out some new gear you've been thinking about or that you haven't even thought about yet. You'll have three days to make up your mind on whether or not to take advantage of any killer deals on offer. The Trade Show will be there Mon-Wed for you to consider, contemplate, and snag some awesome new gear.
You might want to get strategic about how you spend your time in the 14 shooting bays styled by Sue Bryce with Oliphant Studio backdrops.
"I go crazy with these shooting bays. We have an incredible relationship with Sarah Oliphant, and she always creates new backdrops for these. They are always magnificent. They're going to be beautifully lit in lots of different lighting scenarios for you to learn."
— Sue Bryce

According to Oren Sew, who ran a booth at the Portrait Masters Shootout 2021, there are some important essentials to keep in mind:
Don't forget your camera!
You'll need a shorter range lens — 50 mm and wider.
Triggers for lighting will be provided.
Bring extra memory cards.
Optimal camera settings for the booths lighting set up will be posted. Take pictures of them.
Also, take pictures of the lighting setups.
When you post your pictures on social media, tag The Portrait Masters and the models.
Melissa Tousley, who attended the 2021 Shootout, adds these tips:
Make a plan for what you want to photograph. Create a goal list of your priority booths to visit.
Take notes after the first day. Write your take-aways, tips, and highlights.
Create a wish list for the next day of what you would like to photograph.
Ask the person in front of you if you can use their phone to take behind-the-scenes photo and video for them and ask the person behind you if they can do the same for you.
Set your image review time to hold, so mentors can view what you got if you have questions or need help.
Matt Stagliano adds:
Introduce yourself to the model and ask their names. They are humans who are working hard to help you and deserve to be treated well.

Watch the people ahead of you and get a feel for what angles and poses you would like the model to use. Prep your camera to the posted optimal settings ahead of time.

Know how your camera works with strobes. While there will be mentors helping you, a little homework ahead of time will save you loads of trouble.

You DO NOT need to shoot 400 images in your booth time. Think about 1, 2, or 3 poses and guide the model into those. There are plenty of booths and plenty of models. You don't need to build your whole portfolio in one booth visit.

Don't be afraid to ask questions of the mentors in the booths, but be aware that it eats into your shooting time.

If you got your shot, end early, and move on. There's no harm in spending less time and letting more of your friends shoot.

There will always be more popular booths, but if you want to work on something specific, find a less busy booth and work with the model there. Remember, this is all about learning and becoming better at your craft.

If you're more experienced, help those around you get the most out of their time in the booth. Assist where you can. You'll make new friends that way!
Take these great tips to heart to get the most out of your time in the Shooting Bay.
In addition to the all the experienced mentors who will be running each booth, there will also be world-class educators roving about and at the ready to give you pointers and answer your questions.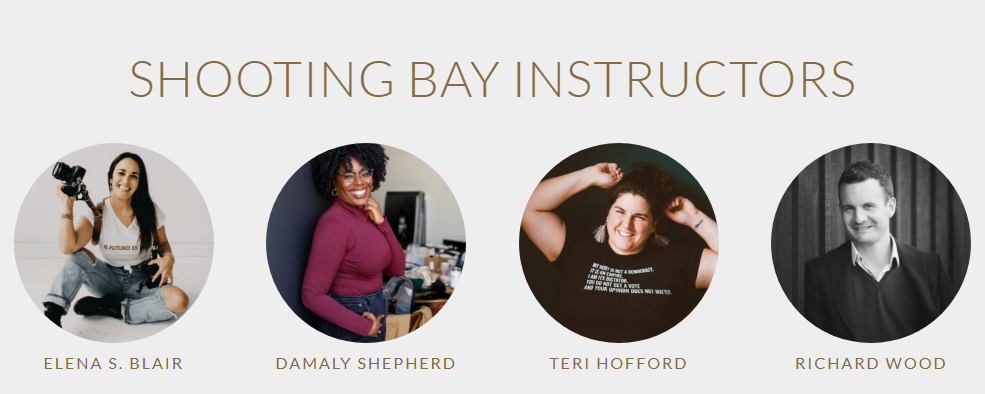 But That's Not All
After a day full of all that learning and doing, you might feel too buzzed to just turn in… Evening recreations to the rescue!
Every night, you can sidle up to The Portrait Masters Bar and sip on a cool, relaxing drink as you unwind and share tips and reflections with your Conference buddies. There will also be several networking events, including 3 awesome parties — the Silent Disco with costume competition (this year's theme is "rock star"), a Pool Party with underwater lighting, and the grand finale, the Karaoke Party.

What Are You Waiting For?
The Portrait Masters Conference 2022 is going to be the event of the year that everyone in The Portrait System community will be talking about for years to come.
This is your chance to meet your favorite instructors, talk in depth with vendors about gear that interests you, network and make friends with photographers from around the globe, advance your craft with hands-on learning, get tips and advice that can propel your business to the next level, and so much more!
Right now, there are only 100 tickets left, so don't delay! VIP tickets are already sold out, but if you'd like to get on the waiting list, you can do so through this link.
So, what are you waiting for? Get your ticket today!
"As you know from the last time we were all together, it was absolutely incredible. So, I'm in for a big show this year. Join us in Arizona from the 11th through the 14th of September. . . You better turn up with an awesome Rock Star outfit!"
— Sue Bryce

Have questions? Check out our FAQ.