DEMO: Save Time, Cull Quickly with FilterPixel

Work Smarter, Not Harder
Running your own business means having lots of responsibilities that demand your time and attention. With so much to do, it can be challenging to achieve balance between your work and the rest of your life.
Nikki Closser has been a professional portrait photographer for 10 years, and if you listen to her on The Portrait System Podcast, you know that she loves to automate and systematize whatever she can, so that she can spend less time in front of her computer and more time with her family, doing what she loves — traveling and spending time with her husband and boys.
That's why Nikki loves FilterPixel, which is AI-enabled software for organizing, culling, and exporting your images. In just 5 minutes, FilterPixel can go through a thousand photos, flagging all those that are unusable and choosing the best picture from a series that are similar.
Nikki recently did a full tutorial, showing just how easy FilterPixel is to use. You can find it right here.
In this blog, we'll talk about some of the features that make FilterPixel so valuable for your business.
Smart Selection, Easy Viewing
After uploading all the images from your shoot, in a process that takes just minutes, you'll see that FilterPixel has already sorted them for you. On the left, you'll see all the images that FilterPixel has selected, and in the bar on the right, you'll see a close up on the face of whatever image you have selected. Next, when you click "Auto-Select," FilterPixel will do a further sort, grouping all images that are similar and choosing the best from each series.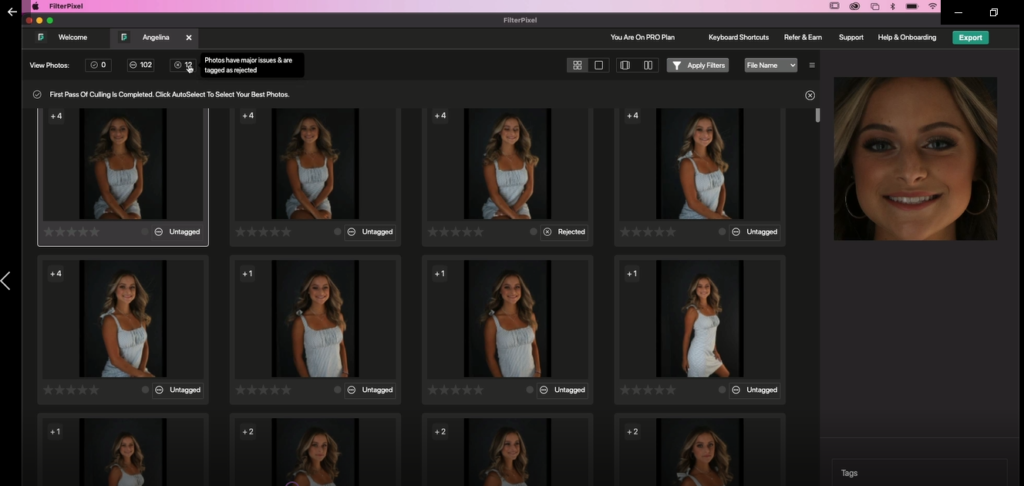 You can also toggle between the categories of accepted, rejected, and unique photos that have major issues and are tagged as rejected. In the image below, we are looking at the rejected tab.
If you click on these images, you will see that in each one either the eyes are closed, the focus is off, or the face not visible at all. If you decide that FilterPixel is wrong in having rejected this image — perhaps you like the soft focus, or you intentionally had your client look down — you can change the selection to accepted.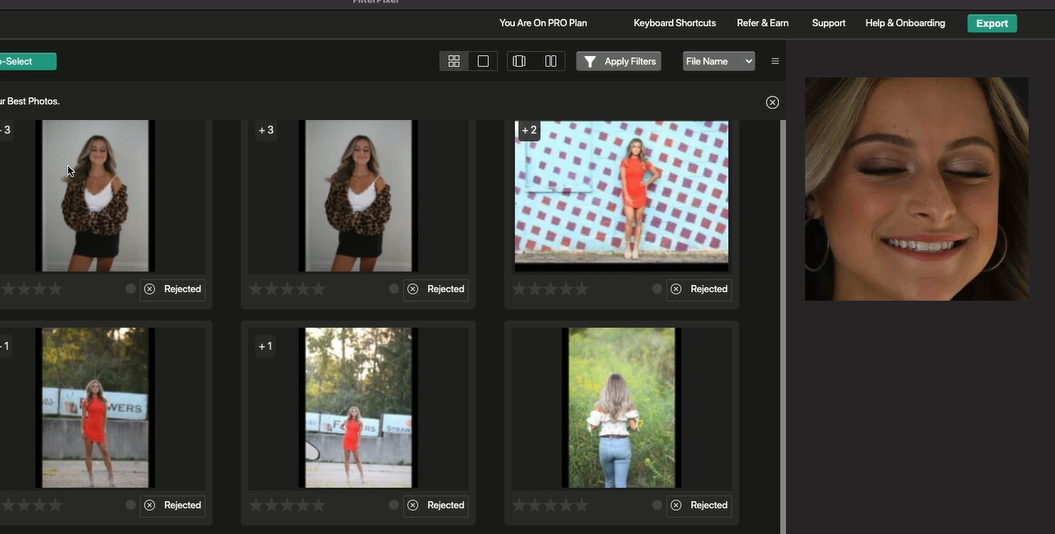 Because AI learns from your choices, after a few times, FilterPixel will learn that you like that type of photo, and it will no longer reject it. The AI understands intentional closed eyes and it does not reject them. You can see all intentional closed eyes with one click.
You can see in the screenshot above that the images have a plus and number in the upper left corner. This shows you how many pictures there are that are similar to that one. When you click on that number, you see all of the images in that series side-by-side (as pictured below).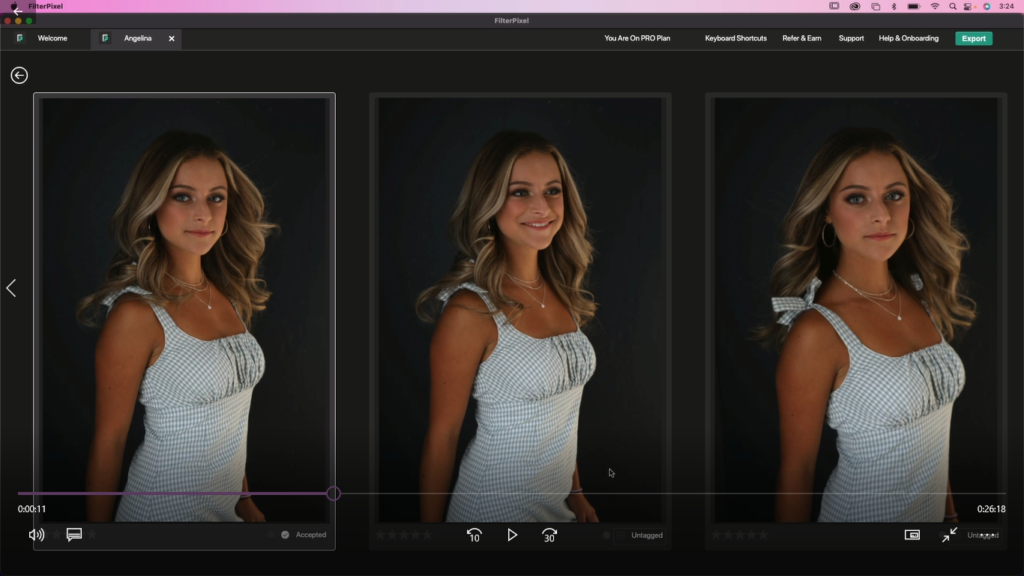 Now, you can verify if FilterPixel chose the image you would have chosen. Most of the time, it does, but sometimes, it might not. FilterPixel is a computer program after all, and it can sometimes make mistakes — especially before it has learned your preferences.
When viewing the series of similar images, you can simply select which one you prefer, and this will help FilterPixel understand how it can make better selections for you in the future. It generally takes about 5 times running the program before FilterPixel understands any unique preferences for selecting images that you have.
Weddings,
Families,
& Events
In addition to having a setting for a portrait of one person (as in the examples above), FilterPixel also has an option for sorting and culling images of groups of people. When viewing all the images just imported, when you click on one image, instead of showing you one face in closeup, you have a view of all of the faces in each photo in close up. This makes it so easy to check the focus and expression on each face without having to zoom in and out on each one.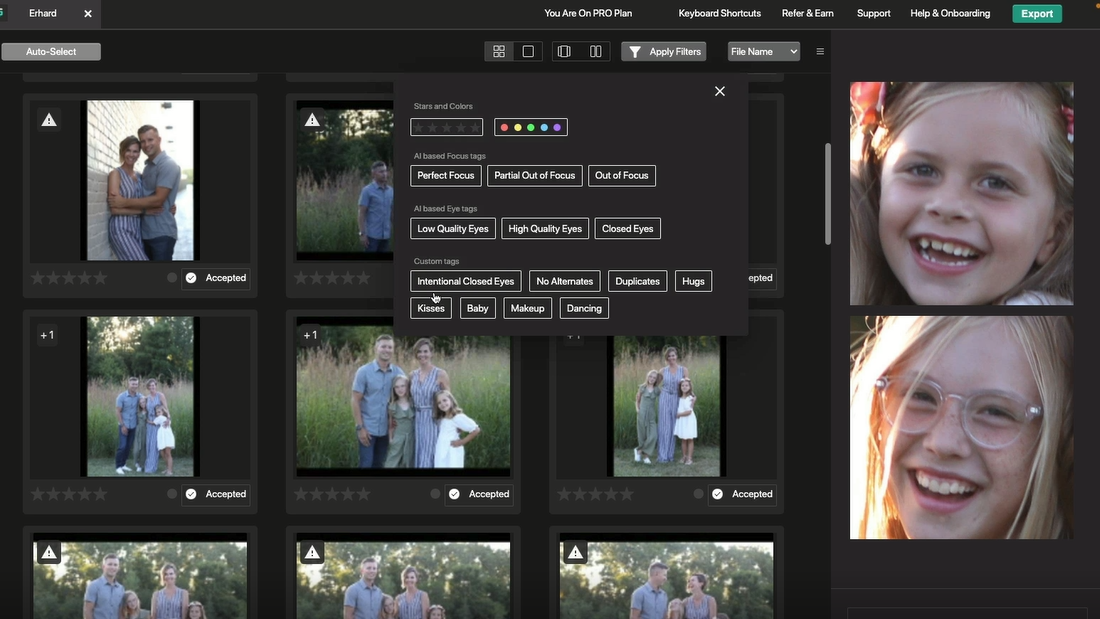 And, when you are looking at images in a series of similar shots, it also lets you compare every face in both of the photos. It is such a handy way to view your images and saves you all that time and effort zooming in and zooming out between the different faces in each image. This feature makes it so easy to decide which expressions you like best as well as determine which images you might like to do a face swap on.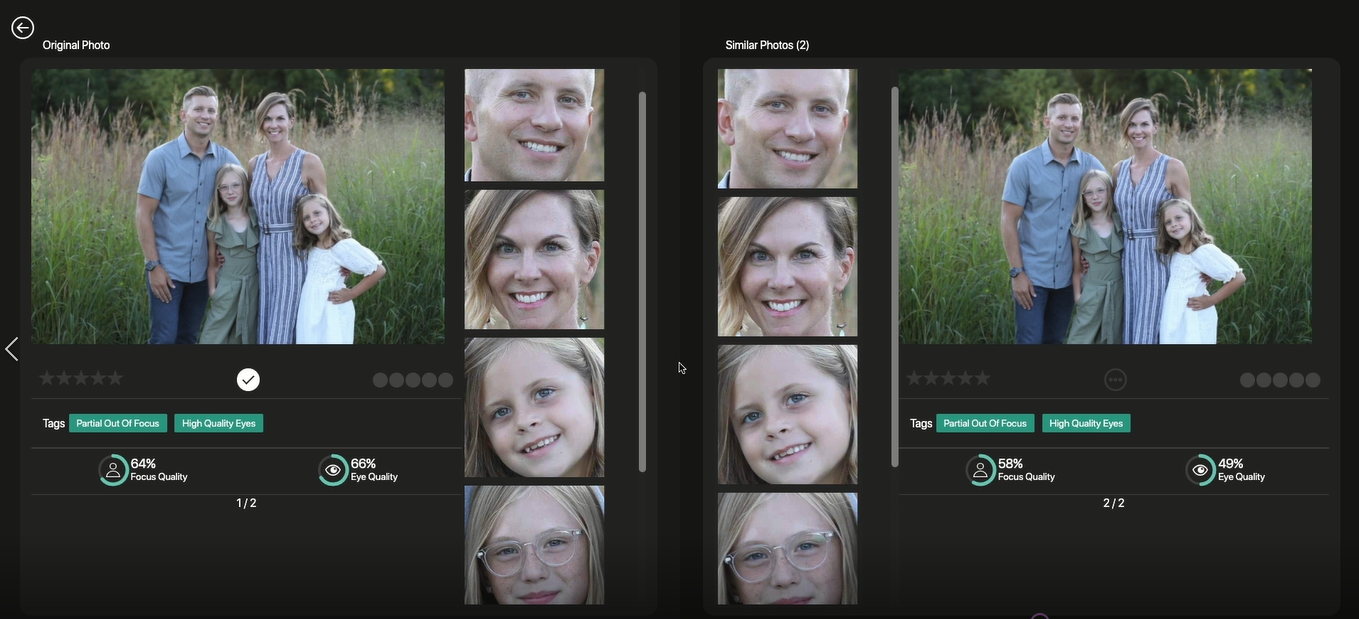 If you clicked "Auto-Select" after your import, FilterPixel will have already chosen the top picture from each series for you. But remember, this sorting and culling process is totally non-destructive. FilterPixel will not get rid of any of your photos. You can always go through the rejected photos and change the sorting on any picture to accepted.
FilterPixel does such a great job choosing the best photos, you could just go along with its choices and have great results. It's entirely up to you and how much time you want to invest in the culling and selecting process. When you first start using FilterPixel, you might spend a little extra time checking to see if FilterPixel chose the images you would have. Doing this will help FilterPixel learn about your specific preferences, so that you spend less time later on.
Take Back Your Time
For a wedding photographer, who can have 1,000s of images in each shoot, or anyone who takes a lot of pictures during a shoot, FilterPixel can save you so much time! Even if you are very disciplined and don't take many shots during each photo session, all the time you spend — going through the images to cull, zooming in and zooming out, checking on focus and expression, and going back and forth between similar pictures — really adds up.
FilterPixel is an awesome tool that can save you so much time that you can spend however you want. Whether you want more time to be shooting and be creative, or if you want more time in leisure with your friends or family, FilterPixel was created to help you spend less time in front of the computer and more time doing what you love.
It's also worth mentioning that FilterPixel has wonderful customer support that you can access by clicking the "Help & Onboarding" button right inside the software.
We're delighted to be able to offer you a discount of 10% when you use this exclusive promo code: Nikki10. Why wait? Time is money, so why not head over to FilterPixel and start saving both today?