An Easy Buy for Seniors with Erica Manning

Episode 121
: Erica Manning
High School Seniors have lots of options when shopping for their Senior photos, so make it easy for them to choose you!
In Episode 121 of the Portrait System Podcast, Nikki Closser chats with Erica Manning, a Fellows-accredited portrait photographer based near Columbus, Ohio, who specializes in senior photography with some families and personal branding thrown in.
Be sure to listen to the whole podcast to hear how Erica makes the whole process of getting senior photos easy for her clients — from choosing and booking her all the way to selecting products and choosing product options. Erica really has given thought to making all of it easy for busy parents and busy students. Some things she takes into consideration are:
having a really fast response time
giving parents all the information they need, so they can feel confident booking her before a consultation
making the consultation focused on determining what styles and looks a teen resonates with, including having them choose from her wardrobe closet
continuing to understand a teen's likes and dislikes by giving them a questionnaire where they rank examples of her photographs from favorite to least favorite
limiting the color options on her print albums and folio boxes, so her clients don't get overwhelmed with too many choices
Every step is designed to make her clients feel less stress and more ease when they work with her, so that she can focus in on having fun with them and getting creative.
If you are curious about how to organize a senior model team, you'll want to hear how Erica manages hers. She also gives really great detail on her pricing and packages. And she tells you about the stylistic touches she makes to prepare her gift-wrapped print products for pick up at her home.
As always, Nikki brings great perspective. This time she shares a great idea for how senior photographers can potentially stretch out their shooting season by offering 3 set dates for yearbook photos and marketing for senior shoots during any season of the year. It's just one of Nikki's great insights and questions you're sure to enjoy in this episode of The Portrait System Podcast powered by Sue Bryce.
Here are links to some things mentioned in this conversation:
Congratulations, Erica, on your two silver-merited images that ranked 4th and 12th in their categories in the recent Portrait Masters competition!  (If you'd like to see them, go ahead and click on the Awards Gallery link above.)
To hear more from Erica, check out:
In this blog, you'll find some of Erica's beautiful portraits, links to her websites, and answers to some bonus questions.
Get to Know Erica Manning
Q: What has been your biggest accomplishment since starting Sue Bryce Education?
A: Achieving my Fellow Accreditation through The Portrait Masters. Through each level of accreditation, I learned so much, improved my skills, and mastered my craft. In turn, my self-worth has improved, and my business has reached a level I never thought possible before SBE and The Portrait Masters. I continue to set new goals to continue learning and improving every step of the way. I'm so thankful to be a part of this community that encourages growth in both skill and mindset.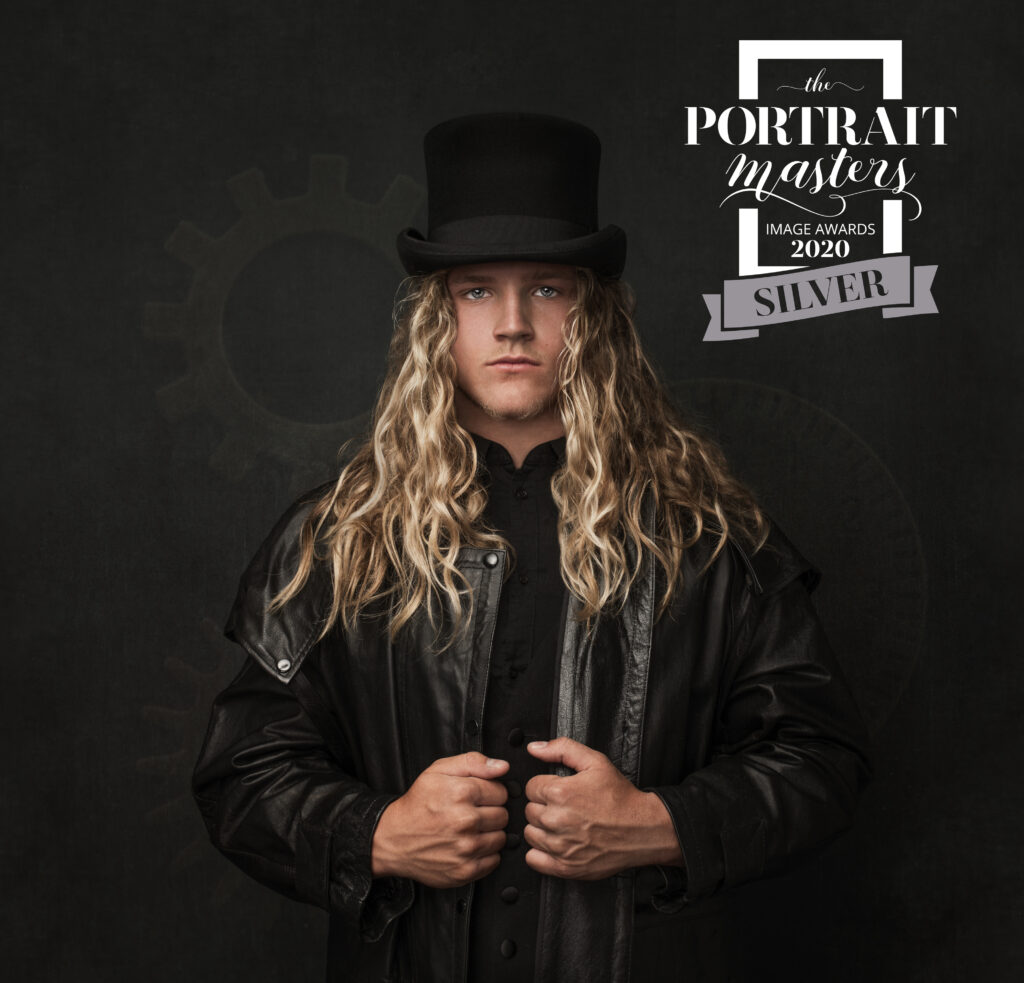 Q: Making a connection with your subject is one of the most important parts of a great portrait. How do you make lasting connections with your clients?
A: I learn as much as I can about them prior to the session. We meet for a style consultation after they have booked their senior portrait session with me, and we discuss what they envision for their session. I also find out details about their personality, interests, and plans upon graduation. I am genuinely interested in them, and that helps them to relax, let their walls down, and enjoy our time together.
Q: For someone starting out on their photography journey what advice would you have for them?
A: NEVER STOP LEARNING. Also, learn to enjoy the process! Don't hinge your joy on getting to a certain level. To "arrive" means that it's over. If you fall in love with the process, the results and your achievements will come naturally.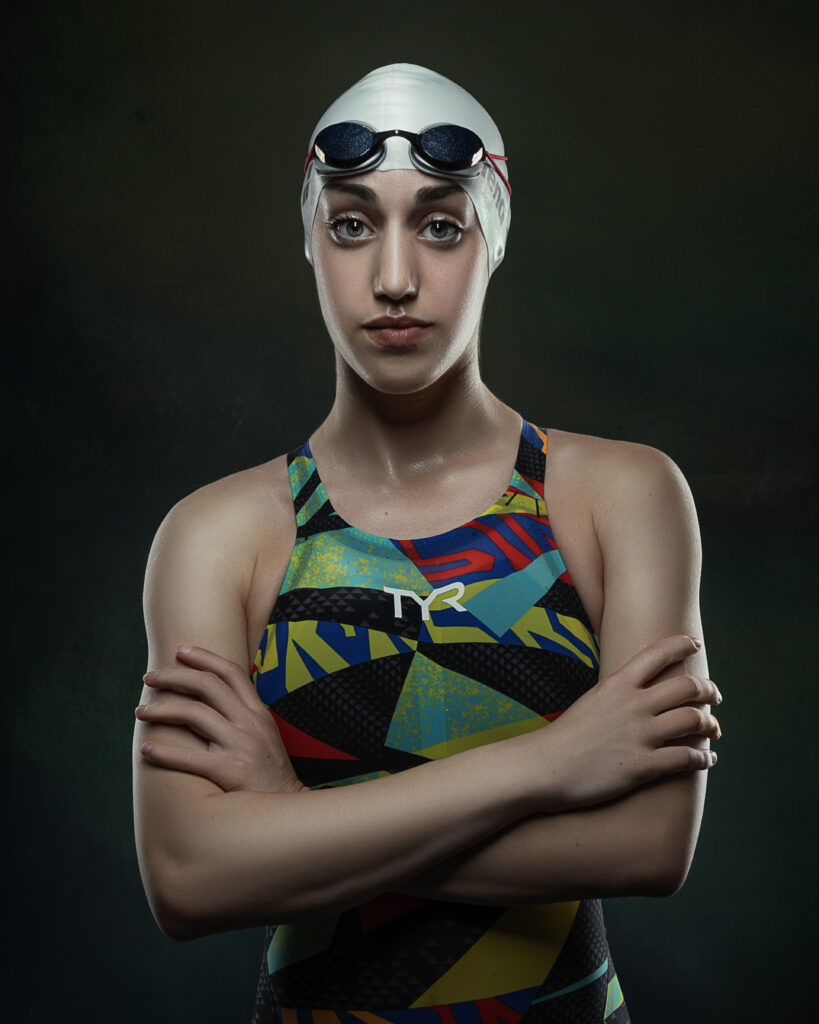 Q: What fellow artists in the industry do you gain the most inspiration from?
A: For creative portraiture, hands down Richard Wood. The thought and detail that goes into every one of his images is mind blowing. I'm so grateful for his courses through The Portrait Masters – I've learned so much from them!! Other notable photographers I admire include Jonny Edward and Felicia Schuette — not only because of their amazing artistry in their respective styles, but also their positivity. They're just good people!!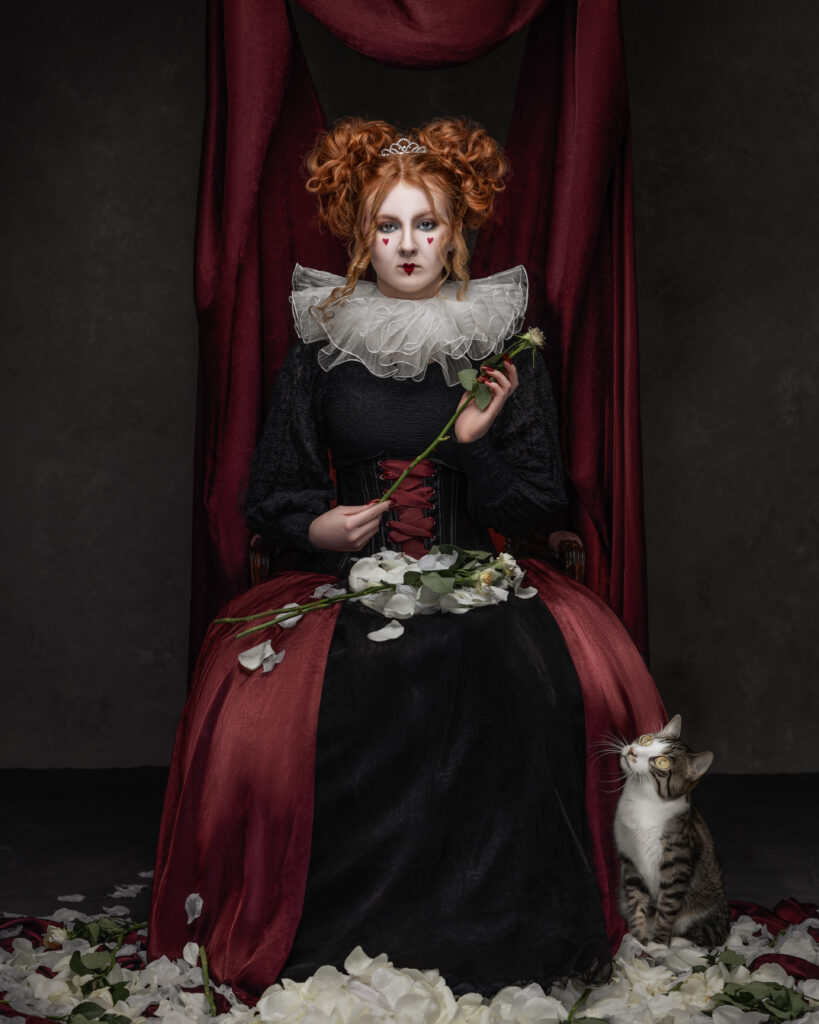 Q: Where do you see your business in the next 5 years?
A: I love what I do, so I don't ever want to stop working with portrait clients. But I also love to work one-on-one with other photographers to help them achieve their creative and business goals, so I hope to incorporate more of that into my business.
---
Subscribe to The Podcast
ART19 – Spotify – Stitcher – TuneIn – RadioPublic – Apple Podcast
---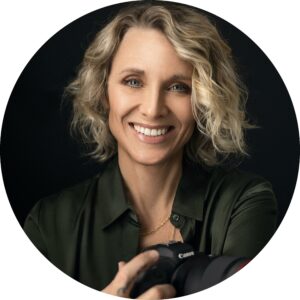 Erica Manning
Follow Erica: Website – Instagram – Facebook
---
Transcript
Click Here to Read the Podcast Transcript
FULL TRANSCRIPT: Please note this transcript was generated by AI and may contain errors.
00:00:00:02 – 00:00:02:08
You're listening to The Portrait System podcast.
00:00:02:21 – 00:00:23:20
Providing it in a concise way. Just not a ton of fluff. Not a lot of words, not a lot of jumble here and there. Just concise, easy to read so they can look at it and make their decision. And I feel that that is another reason why people are ready to book, because it's it's easy. It's easy to look through and the process is easy.
00:00:25:27 – 00:01:02:16
Welcome to The Portrait System podcast. I'm your host Nikki Closser and this show is here to help you succeed in the world of photography and business, to help you learn to become financially free, doing what you love and so much more. With over 1 million downloads, countless photographers have taken what they've learned from both our episodes and from The Portrait System dot com, and they have grown their businesses, quit their day jobs, and are designing a life of their dreams. We keep it real and share stories about the ups and downs that come with running a photography business. You'll hear real life stories of how other photographers run their business, and you'll learn actionable steps that you can take to reach your own goals.
00:01:02:24 – 00:01:34:13
Thank you so much for being here. And let's get started. Today's guest on The Portrait System is Erica Manning, and she's a photographer in Ohio and her main focus is on high school seniors. Erica shares all about how she manages a senior team, and that really helps with her marketing to bring in new clients and to keep her portfolio fresh. Erica has a really cool sales process and she tells us exactly how she maintains her over $2,000 sales average. Erica talks about her different product option, her styling closet and styling consultations, and how she just runs her business overall.
00:01:34:19 – 00:01:42:17
It was a really fun discussion about seniors during this episode. So let's get started with Erica Manning. Hi, Erica. How are you?
00:01:42:29 – 00:01:46:15
I'm great. Thank you so much for having me on today.
00:01:46:27 – 00:02:02:06
Oh, thanks for being here. And actually, if Erica sounds familiar to you, you may know her as a photographer, but you may have also heard her on The Portrait System before, because you were one of our guests talking about how to earn silver images in the portrait master's accreditation and awards and accreditation, right?
00:02:02:12 – 00:02:07:04
Yes, absolutely. And I talk about that for days and days.
00:02:08:04 – 00:02:14:18
We just we just had another round where you. Did you enter? I sure did. Awesome. How does it go?
00:02:14:27 – 00:02:21:09
Great. Well, I received two silvers. One of them was third in its category and the other one was 19th.
00:02:21:11 – 00:02:23:11
Fantastic.
00:02:23:13 – 00:02:24:13
Super excited. Yeah.
00:02:25:02 – 00:02:27:22
And you're a Fellow with. With awards and accreditation.
00:02:27:29 – 00:03:03:20
I am. So I when I say I was going for silvers, I was going for silvers. I made it. One of my major goals over the past few years was to reach that Fellow level. And I did it and I did it ahead of schedule. So I'm I'm thrilled. And moreover, I'm just excited about how far my craft has come from, where I started to where I am now. So, yeah, I just, I truly, truly believe in and will sing the praises of the awards and accreditation program forever.
00:03:04:01 – 00:03:15:16
Well, and I remember you saying that, you know, doing awards and getting these silvers and that sort of thing, like it wasn't something that came naturally to you. You really had to work. Work to learn how to do it.
00:03:15:25 – 00:03:49:25
Absolutely. Absolutely. And I still do. I see some of the people that are Fellows and it just and maybe I'm wrong, but to me, it just seems like it's just a natural thing for them. And for me, it was such a learning curve. And still to this day with every round, I have to research on how to do something and watch Richard Wood's videos again and again and again. But I love it because I continue to learn and I continue to get better.
00:03:49:27 – 00:04:01:18
And I see that progression and I see how much better I am and therefore how much better my images are doing now versus two, three years ago. So.
00:04:01:20 – 00:04:32:27
Right. Yeah. For people listening, I know sometimes people get discouraged, like I haven't gotten a silver yet or maybe some of their images didn't score professional standard or you know, that sort of thing. And they get really discouraged. But and I know it's never fun to get a lower score than you hoped. Like, yeah, okay, let's be honest. It sucks. But it is such a learning experience and it and it can really help you go to the next level. And that's why we did that one episode is so many people are like, but how do I get a silver? Like, Why am I not getting silvers? And so we, you know, ask people what they do and how they did it.
00:04:32:29 – 00:04:35:25
And and it is it's a growing learning process.
00:04:35:27 – 00:05:04:01
So 100%. And honestly, with every time that I didn't do as well as I had hoped, I always just would go back to those galleries of the top 20 and research and look to see and and compare it to mine. Not because I thought mine was better or worse. It was more what does that have that mine does not? How can I make changes to get that? So I always, always learned.
00:05:04:03 – 00:05:08:16
That's great. Great advice. Okay. So, Erica, you live in Ohio.
00:05:09:02 – 00:05:09:18
Yes.
00:05:10:05 – 00:05:12:01
Do you live in a smaller town or a larger city?
00:05:12:08 – 00:05:21:15
I live in a suburb of Columbus. So kind of the best of both worlds. You know, it's a small town feel, but 20 minutes and I'm in downtown Columbus.
00:05:21:24 – 00:05:27:28
Okay. Very cool. Yeah. And then tell our listeners what you do. What is your what does your business look like currently?
00:05:28:16 – 00:06:04:11
So I primarily focus on high school seniors. I would say that's 80 to 85% of my business. I also do some families, what I call legacy family portraits, which can incorporate children or even individuals. But, you know, the family dynamic is normally covered in my legacy portrait business. Occasionally I will do branding and headshots. But if you were to ask, what is my major, it is it is going to be that senior portrait category.
00:06:04:26 – 00:06:07:14
All right. And how long have you been a photographer?
00:06:08:10 – 00:06:12:26
I'm going into my 12th year of business. So far. So quite a while. Quite a while.
00:06:12:28 – 00:06:15:13
Awesome. Yeah. What did you do before photography?
00:06:16:07 – 00:06:46:24
Oh, I did it all. No, I have a degree in marketing and so my background is in sales. So years ago, I was a copier salesman and or sales woman, which I did fairly well, but it was just hard to get excited about that. You know, it's a copier. And like I said, I made good money. I did well as a sales person.
00:06:46:26 – 00:07:17:13
However, it just wasn't my passion. After I left that business, I was a personal trainer for a while, which was great for my fitness, but honestly, I still felt like I was missing the mark. Like that was just not not my passion. So after years of being a personal trainer, my husband bought me a Canon T two II for Christmas one year. And honestly, I didn't touch it for weeks because I was intimidated.
00:07:18:04 – 00:07:19:01
I know that feeling.
00:07:19:25 – 00:07:55:12
But once I started, I was obsessed, like watching webinars at 3 a.m. to learn everything I could, like I, you know, 24 hours a day almost. I was trying to learn. So it just became this obsession. And within months I sold my T two II and purchases by D mark two and which feels like, you know, a million cameras ago. But it kind of progressed into an obsession and then a business, and it was a natural progression, honestly.
00:07:55:25 – 00:08:26:15
I took pictures of my teenage daughters when I first got my camera until they told me to get the camera out of their faces. And then I took photos of friends and family and, you know, I was very busy and it just seemed like more and more people wanted me to take pictures. So I'm like, well, if I'm this busy, maybe I should start charging for this. And so I started charging and then I continued to be busy, and so I started charging a little bit more. And so like I said, it happened organically.
00:08:26:17 – 00:09:04:01
It just kind of morphed into a business. And then finally I made it official and you know, got all my licenses and whatnot, but I guess my pricing was being bumped up based on how busy I was. Right. But honestly, you know, those price increases were, you know, little bump here, little bump there, a little bump there. You know, I was afraid of losing all of my clients, but that's kind of how the progression for years and years happened with my business. I was never a shoot and burn photographer because I am in sales and if I can't sell my own work, well then there is a problem.
00:09:04:03 – 00:09:04:27
So I.
00:09:05:15 – 00:09:16:07
I was going to ask you that really quickly. Being in sales for your previous career, did you find that it helped you to be able to sell your own work, or was it harder to sell your own work?
00:09:16:15 – 00:09:52:08
No, I found it to be so beneficial because as I mentioned, you know, selling copiers, I just wasn't I wasn't excited about that. But my own art, my own photographs, I was really excited about that. So it was always easier for me to sell. Now, ironically, as a sales person, I don't like salesy pitches, so I've worked very hard to create a way to make it not feel salesy. But the sales session itself, I have always been very, very comfortable in doing that.
00:09:52:10 – 00:10:01:17
So it was definitely helped me on that end. I feel like I had a lot further to go learning the craft and the art than I did the business part of it.
00:10:02:02 – 00:10:07:22
Got it. Okay. So then how did you end up in the whole senior genre?
00:10:08:05 – 00:10:38:14
Well, I mean, again, that somewhat happened organically. My girls were well, they were grade school when I started, but when I actually started to figure out what genre I like, they were in high school, so they had a lot of friends that wanted senior pictures. And so I started taking pictures of people that I knew. And then that kind of again, the more people that had senior pictures done by me, by me would refer me to others.
00:10:38:16 – 00:11:15:04
And it seemed that every year that category was kind of inching out all of the others, which, you know, starting off, I did everything like, you know, almost every photographer does. I did newborns, I did weddings, I did, you know, so bit by bit, I started eliminating, you know, genres that I decided just weren't for me. And weddings is one of them. I think that was one of the first to go once I opened up my studio. I think that's a common theme, but it just I still didn't have time in portrait photography was where my heart was.
00:11:15:06 – 00:11:25:20
So I decided that I would leave weddings to people with a lot more energy and I would stick to the the portrait photography side of things.
00:11:26:07 – 00:11:31:16
Gotcha. So you kind of fell into senior photography with your with your kids. Yeah.
00:11:31:18 – 00:12:03:04
And honestly, there it's a genre that I love to shoot because more often than not, they're excited to be there. They're completely into the session. They they enjoy it and they listen, like with children. You know, you can you can only tell them so many times to do something for a portrait. They're just not going to do it. Whereas a see where they're all pretty good at following direction. And so I find the sessions fun and enjoyable and hopefully they do.
00:12:03:12 – 00:12:04:25
They do too. Yeah.
00:12:05:16 – 00:12:28:26
Well, okay. So I know living in Michigan, we're not that far from each other. Right. At least for me, it's very seasonal. I mean, you know, I think I usually start I really don't do a lot of seniors anymore. I've really just stuck with personal branding the last two years. And I'm very happy right, right there. But when I did do seniors, it was like June to September just slammed.
00:12:29:02 – 00:12:29:17
Yeah.
00:12:30:22 – 00:12:31:23
Is that how it is for you?
00:12:31:29 – 00:13:11:13
So it not really. And I'll tell you why. A couple of the schools in my area no longer have the seniors submit their yearbook photo. They have it done by, you know, some big you know, some big company that's just in it. The same one. So I'm not working on that deadline. I am simply working on the deadline of graduation. Like they just want to get their images for graduation. So as you can imagine, like summer and fall, pretty busy with the senior sessions because it's the prettiest time of year here in Ohio.
00:13:11:26 – 00:13:47:16
But because I have a studio the winter months, I can still work. And honestly, there are people who want, you know, winter sessions as well. So I will do that provided it's above 30 degrees. But then starting in like right now up until normally mid April to early May, people are trying to get their images so they can have them for graduation parties and and things like that. So I continue to stay busy even through like May and then once that hits, I have a.
00:13:48:03 – 00:13:49:08
Little bit of a lull.
00:13:49:20 – 00:14:24:13
But then I'm starting right up with the next year seniors. So really I don't have a down, down time, which I love. I love that it is fairly consistent. I know that's not necessarily the case with every market, but that is what I have found here and it has really helped me to plan my year because I know when things are a little bit slower and I try to to plan for other types of session or even other business things, like if I need to re up my website, I'll do that in the months that are a little bit slower.
00:14:24:15 – 00:14:40:17
Or if I need to work with my model team and in some marketing endeavors, I will do that in the slower parts of the year. So I'm never like slow, but you know, things are spaced out in a in a good format for me.
00:14:40:21 – 00:14:57:21
Well, you brought up a really crucial point here, that if you are not at the mercy of the yearbook deadline, you can really, really open up your schedule. I love that you brought that up a lot. Like most of my seniors that I had, I was expected to do the yearbook photo as well.
00:14:57:28 – 00:14:58:13
Right.
00:14:58:17 – 00:15:32:27
That's just how it is. However, you could do something. I'm just I'm just thinking about the people who are seasonal and who it's frustrating that they have such a busy season and then it's like no work for eight months or whatever. Right. I wonder if you could set up your own like come in, get your yearbook photo done on three different days or something. Then you can book your senior shoot whenever you want, whatever season you want, no pressure. We could do winter. You could have winter examples, you could have fall examples and really like plant that seed so that it doesn't just have to be in this four month period.
00:15:33:15 – 00:16:07:09
That is brilliant. And I might steal that idea that because I do have a couple of schools that do have a yearbook deadline. But I will tell you, they've been late, like April 1st is the biggest school that I do. Their yearbook deadline is April 1st. Well, that's darn near close to graduation. So I honestly can still get them in for a senior session February, March and get everything back to them in time for that yearbook deadline. So it's it's not a big, big deal that I have a yearbook deadline, but there are other schools where it's earlier like January.
00:16:07:20 – 00:16:26:23
And I do love that idea because then, like you said, it spreads things out. You're not, you know, swamped in those crazy months and then, you know, completely dead in other months. Spreading it out has really helped me with maintaining balance, which is huge for me in my business.
00:16:26:28 – 00:16:32:27
Yeah. Yeah. Well, let's let's talk about your business. You mentioned that you have a senior model team. Will you tell us about that?
00:16:33:05 – 00:17:11:20
Yes. So and I know everybody does their model teams differently. Mine. I don't necessarily even call them ambassadors. I truly have a model team, so I am able to do creative work that is not my normal senior session. So these are the people that I call on to do anything creative. I do certain sessions that are a part of the model team schedule, and those are a little bit closer to a senior session.
00:17:12:02 – 00:17:45:25
Maybe things that might interest them a little bit more. But then when I do special projects, I look to that team first to pull my talent in for for a variety of projects so they each can do about 2 to 3 sessions with me a year. And these are images that really they only get watermarked images as being a part of the senior team, but then those images will go into their gallery.
00:17:46:03 – 00:18:16:17
So as a reward for being on the team, their galleries end up being a lot larger and with a lot more interesting images than just a standard photo session. So it encourages them to be a part. I don't require that they share a certain amount of images or, you know, market for me in any way because let's face it, no teenager wants to work for me. You know what I'm saying? But hopefully they love the images enough that they want to share them.
00:18:16:19 – 00:18:25:26
And they all have. They do a great job of sharing my work out there. So. So it ends up being a win win for the model team and for me.
00:18:26:22 – 00:18:40:07
Okay. Now, how do how does that apply to their own senior sessions? Like, do they have to pay for anything? I know you said they would have a larger gallery because of the jobs they've done throughout, but do they have to pay for anything for.
00:18:40:09 – 00:19:10:10
Being a model? They get a small credit towards their session, but they have to book a session to get anything. Like if they wanted the the images to be able to print, like the model images, if they want those, they would book a senior session. We would do the senior session completely separately from their model sessions. But then at the end, when I'm presenting their gallery to them in our selection appointment, it will include all of those model sessions images as well.
00:19:10:27 – 00:19:19:28
Okay. Gotcha. All right. So let's talk about how your whole process works. So start to finish, someone inquires, then what happens?
00:19:20:07 – 00:19:53:15
Okay, so when a senior parent and it's normally a senior parent that contacts me when they contact me, I know that the parents and the seniors are busy, busy, busy people. So I try to provide as much information as I can for them to make a decision and not necessarily have to come in for a consultation before they book. So my email, responding to them, has a information magazine.
00:19:53:17 – 00:20:27:11
Of course, with all the pretty pictures and all the information that they might need, has the session types, which I have different levels all the way from a simple session, all the way to what I call the I want it all session. And so they have information on those sessions and what they include. And then I provide a general guideline as to what people spend on an average session. So it gives them a range of what they might expect to spend.
00:20:27:17 – 00:21:10:02
Once all is said and done, very, very rarely do they ask to come in for a consultation. Occasionally they do, and I love it so I can explain everything, show them all my products and everything. But nine times out of ten, my clients will just respond with an email saying I'm ready to book. So then I send them the contract. I send out the invoice for the retainer. Once I get that back, then I send them a welcome gift that has it's just a water bottle and a little notepad with their year on it and a pen Erica Manning photography pen.
00:21:10:18 – 00:21:46:11
And it also has a single sheet that just says, Don't forget to book your style consult. So that prompts them to go. And I have an automatic scheduler that they can go in and schedule during certain times. What works best for them? They schedule their style consultation, and they come into my studio at that time where I will go over the entire process as well as talk about. Different styles of photographs that I am able to do the session.
00:21:46:26 – 00:22:21:27
I'm really just obviously trying to tailor it to their wants and what they like, but a lot of times seniors don't even know what to call what they like. They don't even know how to describe it. So when I bring them in for that style consultation, we'll sit down and I will show them. Okay, here are some different setups in the studio, some different styles of studio photos all the way from high key to dramatic to kind of a romantic feel to a classic more of a editorial.
00:22:22:02 – 00:22:36:08
And I show them all of those and examples of work that I have done so they can tell me what they like and what they don't like. And prior to their session, I send out a questionnaire asking them to rank those.
00:22:37:07 – 00:22:38:03
So I.
00:22:38:05 – 00:22:51:24
Know what they like. And they they're not basing it on Pinterest images that are not mine. They're basing it on my images of things that I do. So that has been.
00:22:51:26 – 00:22:52:23
So.
00:22:52:25 – 00:23:25:05
Valuable to have them come in to put words to what they like so they can describe that to me. Also in that session, I have a style closet, otherwise known as a way to support my shopping habit. But I have lots of different outfits that they can select from and accessories and whatnot, so they they can pick out clothing for their session if they want to.
00:23:25:07 – 00:23:55:08
A lot of times they want to wear their own things, which is great, but at least they have the option. And many do find an accessory or an outfit or two that they include in their senior session wardrobe. So so that is has been a great help to me because it helps me get in line with what they want. It helps them to share that information with me.
00:23:55:23 – 00:24:18:24
So by the time we get to the session, we've met each other. We know we are on the same page. I can set up the studio according to the colors they like and the style they like and the, you know, the lighting set up. I'm not wasting that time. I've got that all set up by the time they come in for their session and we can just focus on having a good time and creating the images that they want to create.
00:24:19:11 – 00:24:49:29
That's so awesome. And I'm sure that's really helpful for the parents as well because I feel like seniors and I'm generalizing. Not all seniors are like this, but they're just kind of like, it's impossible. Okay, I'm just gonna say it's impossible to get information out of them. I'll be like, Okay, do you like this? Or like, I don't know. It's like, Oh my God. So I love that you're making it simple. And then sometimes the parents, particularly mothers, will stressed out about she won't tell me what she wants to wear. I don't I can't find anything. Whatever. So you're making it so easy on all sides?
00:24:50:05 – 00:25:09:02
Yeah, absolutely. Absolutely. I think, you know, going through the process, they know what to expect and they know they can visually see different examples of what they might like or what they might not like. So they can tell me they can tell me exactly what they want. And it has worked out really well.
00:25:09:15 – 00:25:25:02
Yeah, that's great. So you remind them to do the sales consultation. Oh, I know what I was going to say. You said that usually when people inquire, they're pretty much ready to book. Why do you think that is? Why do you provide a lot of information like in your social media or website? Like how does that happen?
00:25:25:11 – 00:26:03:08
Well, I think the majority of my clients are referrals, and so they have heard firsthand from other clients that the experience was good and they have seen my work on social media. So, you know, it is helpful that they they come into it already with a preconceived idea of what it is like to work with me. But I respond immediately when they inquire my, the, the documents I send out or the information guide that I send out is meticulously done.
00:26:03:10 – 00:26:38:23
It's professional. So a lot of times I'll get the comment, wow, this, this is fantastic, you know, and they're so it just kind of bolsters the idea that I'm not just doing this on the side. This is a business that is I've been around for years and I'm a person that they can trust. So I think that, you know, between my reputation as a photographer in the area and then the information in the images that I put out on social media, coupled with the information that I send them, they feel comfortable.
00:26:40:08 – 00:27:05:25
Make feel comfortable booking me. So, you know. I feel fortunate in that way because I feel like I know a lot of people that have to do the consultation in order to get the session. And I don't mind doing those. I don't at all. But I feel like people just want to know that they can vote for somebody that they trust and they're ready, ready to do that as soon as I get them the information.
00:27:06:03 – 00:27:14:19
Plus, I mean, if you don't need to spend the time doing it, then, you know, like you said, you are going to do the style consultation. You can do all those things after they're booked.
00:27:14:27 – 00:27:45:01
Exactly. And yeah, I'd rather do it because, you know, if there's not a guarantee that they're going to book, that's time. That could be I don't want to say wasted, but it's I'd rather spend that time with them when I know they already have a session and I'm focused on finding out exactly what they want rather than trying to convince them to do a session with me. So yeah, I do provide, like I said, the the session information and a range. And normally that is enough for people to book with me.
00:27:45:03 – 00:27:50:27
They, they feel comfortable with the range that I give and the information that I provide in that guide.
00:27:51:10 – 00:28:17:16
So yeah, those guides are so important. I hope people listening really take this to heart because if you can put your best foot forward and show the behind the scenes, show your style closet if you have one, you do not need one at all. But if you do talk about the process, talk about how you're going to how you're going to pose them, you're going to help them through. Do you do multiple locations like really give all of that information with tons of visuals and limited text.
00:28:17:24 – 00:28:18:09
Yeah.
00:28:18:11 – 00:28:23:00
Nobody wants to or has time to read paragraph after paragraph after paragraph.
00:28:23:19 – 00:28:51:24
And I think that that's key. Nikki sorry to interrupt, but I feel like providing it in a concise way. Just not a ton of fluff, not a lot of words, not a lot of, you know, jumble here. And there. Just concise, easy to read so they can look at it and make their decision. And I feel that that is another reason why people are ready to book, because it's it's easy. It's easy to look through and it's easy to. The process is easy.
00:28:52:03 – 00:28:58:01
Yes. Yes, definitely. Okay. So let's talk a little bit about pricing and how your pricing works.
00:28:58:17 – 00:29:37:07
So I'm going to come out right off the bat and say that I'm probably not as high as a lot of the photographers out there in the Sue Bryce Education and The Portrait System. My average sale, including the session fee, is anywhere between 2200 and 2400. That's great. You know what? I'm very comfortable with that. I have a lot of friends whose sales averages are much higher and you know, and which I'm so happy for them. But for me and my area and my business and the clients that I love to work with, this is a sweet spot for me.
00:29:37:20 – 00:30:15:11
Like I said, it's it is a comfortable price point for my clients to book without a lot of fanfare, and I have created processes to make it profitable. I'm not spending a lot of time with a lot of the different parts of my process, which would make it less profitable, which would make it not worth my time. So I've spent years and years just working on that process, fine tuning it and coming to the point where I really don't stress about my business.
00:30:15:13 – 00:30:35:21
I feel very balanced and and I can honestly say that over the last several years I have a six figure business and I am not overwhelmed. I am just doing my thing and serving my clients. And it it is a great place to be.
00:30:36:07 – 00:30:41:23
That's awesome. And, you know, it's such a great place to be to feel content like that. I love it.
00:30:42:04 – 00:30:44:15
Yeah, it has been life changing.
00:30:45:15 – 00:30:50:17
Well, tell us a little bit about do you do packages, do you do a la carte to a session fee? Yeah.
00:30:51:05 – 00:31:22:18
So my pricing basically I have a session fee. I like to think of my business model as inclusive, not exclusive. So I just feel like high school already has enough emphasis on hierarchy and the haves and the have nots that I, I really try to provide something for every type of senior. So I have, like I said, my simple session, I have a portrait session, which is a little bit bigger.
00:31:22:26 – 00:31:57:02
I have my best of both worlds, which is both indoor and outdoor. It's what majority of my clients book. So that one is kind of I consider my standard session and then I have that I want it all, which is two sessions. Includes hair and makeup and all the all the fun things. So I'll just as an example, use my Best of both worlds session. That session fee is $200. It includes up to 2 hours of session time.
00:31:57:04 – 00:32:29:06
It includes access to the the wardrobe closet. It includes that that styling session with me. And then I edit 60 images for them to select from. And and again in my my images I'll go through that process in just a bit. But but that's what they can select from as far as their session goes. It also includes a $200 product credit. So we have our session.
00:32:29:08 – 00:33:00:16
I edit the 60 images and I will say that I send out my skin retouching so and you know, stray hairs and things like that. So that to me has taken a big load off of my plate and the images come back and I put my special sauce on them. Again, I've created systems that allow me to do that in a pretty quick format. I'm able to get 60 images done.
00:33:00:18 – 00:33:46:05
Normally 2 to 3 hours on my end of editing. So so I've edited the images. I post a few online and then send out an email for them to schedule their selection appointment. So they come in for their selection appointment. And my pricing is a build your own collection type system. So I have found that people like being able to have a little bit more control over their collections rather than me tell them that they're getting a 16 by 20 in their collection, they can pick that there are three different components to the collection building.
00:33:46:11 – 00:34:18:29
There are wall products. That's one step. There are what I call heirloom products, which include albums or a folio box. That's the second step. And then the third step are my digital files. And my digital files also include a variety of give prints. I offer digital files both in low resolution, only printable to buy ten or high resolution printable the large sizes. The high resolution ones include more gift prints with them.
00:34:19:13 – 00:34:52:18
So basically people come in and they can create their own collection. There are several different options for wall products. There are several different options for albums. And there are two options low resolution, high resolution for digital files. They have to pick from at least two of the three steps. Okay. So you can't just get digital files with some gift prints. You have to get either an album or a folio box or something for your wall.
00:34:53:04 – 00:35:23:25
If people get something from every single step, then they get a credit towards, say, a yard banner or announcements or something along those lines. So so it encourages them to purchase from three steps. I do have an A la carte Price menu that just has either gift prints or you can get a single digital file or you can get what I call a mini gallery, which is 15 images.
00:35:23:27 – 00:36:04:07
And both of those options are only printable to eight by ten. So if someone comes in and they don't want to go with the collection, they do have an option. However, the pricing on my A la carte price menu is pretty high, especially in comparison to a collection. You just get a lot more for your money. If you build a collection, so psychologically it just makes more sense to build a collection. Why would you get only 15 images when you can get this collection? Which, by the way, in my collections, both of the digital file options include all of the digital files.
00:36:04:20 – 00:36:38:13
So because they're coming in deciding whether they want me to edit 15, 30, 60 or 100 with the I want it all session because they're determining how many I'm editing from the get go. My collections are based on all of those images, if that makes sense. So the digital files within a collection are all of the edited images. So it just like I said, it makes more sense.
00:36:38:22 – 00:37:12:18
For them to build a collection, and it gives them the control of picking the products that they want. So if somebody is not a wall product kind of person, I've had a lot of people, we just don't have the wall space or blah, blah, blah. Okay, well then you can get an album and you have these albums to select from. You can let me know which album that you want. So in order to get all of those digital files, they have to get at least one other type of product. And a lot of times they're getting a couple because, you know, the parents want something for their wall.
00:37:12:24 – 00:37:24:25
But that heirloom product, the album can be passed down from generation to generation. So they want to get that as well. And then they'll get their digital files that, you know, son or daughter can share on social media. Okay.
00:37:24:28 – 00:37:43:18
Gotcha. A lot of people lately have been asking about specific products. Like, I know it can be really overwhelming trying to decide on as photographers which companies to use for your product. So do you want to share a little bit about who what companies you use and the types of products you use? I mean, I know you said wall portraits and albums, but just a little bit more specific.
00:37:43:27 – 00:38:16:24
Yeah. So my wall products I offer from Bay Photo, I love Bay have used them for years, so I offer either canvas or their stand out product or both framed and unframed prints. But standard it comes on frame. So unframed prints, canvas, stand out. And then let me think about this from graphi. I offer the Amalfi panel from Graphi studio.
00:38:16:29 – 00:38:21:22
For people out there who might not know what that is. Just want to make sure people know graphi, you know? That's okay. That's okay.
00:38:21:29 – 00:38:52:20
The Amalfi panel, which is gorgeous. So a variety of types of products because I have a variety of types of seniors. I have, you know, some very artsy kinds. I have some very sporty students. So I want to offer a variety of products for them, regardless of the type of product that they order. The price is the same unless they add a frame to like either I have a canvas panel or the wall prints.
00:38:52:24 – 00:39:32:00
Those can be frames. So if they want to add a frame, it's additional. But all of the other prices are consistent for either a small, medium, or large. They're kind of grouped in, if you want a small one, if you want a medium one or if you want a large one, regardless of the type of product, the price is the same. And I did that because I already have a lot of products on my price menu. By doing it that way, it just kind of makes it simpler. It just rather than, well you can get a, a canvas at this amount or you can get a wall product or a wall print at this amount, the price is the same regardless of the type of product that they get and it's priced accordingly.
00:39:32:02 – 00:40:07:12
You know, my cost is factored into that. So those are the different wall products that I offer. I also offer several different albums. I offer two different types of products, albums from Fineo now, again, very, very happy with them. I have a very high end album that has the I'm going to butcher this pronunciation, but they hennamula paper, you know, leather bound. It has a canvas cover. So that's my highest end album. Then I have kind of a mid-level album that has just either textured fabric or vegan leather leather cover.
00:40:07:23 – 00:40:40:21
And either one of those albums I only offer in 20 pages or ten two-page spreads. And the reason is because I tell them 35 to 45 images fits beautifully in this. I don't offer more pages, I don't offer more options. They just pick, you know, from a limited amount of swatches, again, making that process a little more simple so there's fewer things to pick from. It makes that decision a lot easier for them to select the album.
00:40:41:00 – 00:41:26:28
I also started offering the storybook from Graphi Studio. Again, very different type of product, very different type of album, but some people absolutely adore that. So, so I like to offer that. And then I also offer a smaller album that is more like a grandparent album. They make great grandparent gifts. So and then the the folio box is the final option within my products, what I call heirloom products, so they can select one or more if they want, but at least one item from either that or my wall products and I always, always, always obviously do this in person like I don't willy nilly just send out my price menu.
00:41:27:21 – 00:41:52:00
It can be so confusing and people understand that when they come in and I'm explaining everything, they they understand why I don't just send out my price menu. Because it just wouldn't make sense unless you're standing in front of all the products and understanding and touching and feeling them. And at that point, you know, starting to imagine those products in your possession or in their possession, it helps that way, too.
00:41:52:12 – 00:42:06:10
Yeah, definitely. Another pain point I think that photographers experience is and this might sound silly, but it was a big deal for me is like the packaging and shipping and you know, how do you physically get them? How do you package them and how do you get them the products?
00:42:06:24 – 00:42:38:02
So products come in. I have branded bags and I also my colors are black and gold. So I bought some matte black wrapping paper and I wrap their wall products or their albums up like a gift. So and I, you know, tie a bow around them. So it literally looks like a black Christmas gift when they get it. I have black bags with my my logo on them.
00:42:38:04 – 00:43:10:18
And so smaller items and prints like that will go into those. They're like the tote bags. That's how I package that. I actually have my clients come pick up the order from. I do my selection appointments in my home, I do shooting in my studio, I do the selection appointments in my home. And so they come pick up the order from my home when it arrives. I think that also the fact that I'm not delivering them helps me keep my costs down because I'm not driving all over town.
00:43:11:01 – 00:43:14:12
Bringing people that makes such a difference. There really.
00:43:14:14 – 00:43:33:11
Does. And I think for my clients, they would rather come pick that up than me raise the price to reflect me dropping that off. So, you know, there are sure other types of businesses and whatnot that, you know, that would make more sense for you to deliver. But for my clients, it just makes more sense for them to pick it up.
00:43:33:20 – 00:43:34:21
Yeah.
00:43:34:28 – 00:43:35:18
That's how I deliver it.
00:43:36:13 – 00:43:45:27
Very cool and then I know you said marketing wise you're pretty much referral on or you get a lot of referrals. Is there anything else that you do other than that?
00:43:46:06 – 00:44:16:21
You know, no, other than social media. I try to be as active as I can on social media without it running my life. I on Instagram, I've been doing more reels and it was a commitment I made to myself because I resisted as long as I could. But at the beginning of last year, I'm like, You know what? I'm just going to I'm just going to dive in and see what I can do. And I have found that I'm showing a little bit more of my personality with my reels, and I'm enjoying that part of it.
00:44:16:23 – 00:44:51:19
I think they're kind of funny and fun and a lot of times images that I'm posting because of my style, you know, I often will have images of, you know, my students not smiling or, you know, it's a little more serious looking. So I wanted to do more showing that, hey, this is this can be fun, like showing a little bit more of my personality. So recently I've been doing like the voiceover reels and explaining either a part of my business or or just something that is kind of funny to reflect my personality.
00:44:51:21 – 00:45:24:12
My reels also will kind of show behind the scenes and my especially with my creative work, I will often show, you know, behind the scenes and how I came up with the concept and that sort of thing, which I had a lot of positive feedback as well. So Instagram is probably my primary method of quote unquote advertising because it's where my students and my parents are. I do post on Facebook and I think fewer people on there. But as I mentioned before, the parents are normally the ones who contact me.
00:45:24:14 – 00:45:49:02
So if the parents are on Facebook, I don't want to ignore that avenue. But as far as paid campaigns or anything like that, I haven't found great success in it, so I haven't done a lot of it in the last year or so. Just because I've found success and have maintained a happy level of clients by doing what I'm doing in the way I'm doing it now.
00:45:49:20 – 00:46:12:29
Awesome. Very cool. Well, thank you so much for sharing all this. This is great. We needed it. We needed some more senior info, you know, just to it's always good to hear different perspectives on how different seniors do it and or sorry, different senior photographers do this. And, you know, everyone, it's it's somewhat similar, but everyone puts their own spin on it. So it's not always nice to hear different perspectives. And so, yeah, so yeah, that's great.
00:46:13:02 – 00:46:43:16
And I'm a firm believer and you know, people. I pick and choose things from different places that I'm learning to do. What works for me and what works for me might not work for the next person, but you know, this, this and I have a lot of friends within the Sue Bryce world that do things very, very differently and it works for them. And, you know, so you you kind of have to play around with it. And see what's going to be the best for you and your business and your clients.
00:46:43:22 – 00:46:56:08
Totally. Yeah. Awesome. Well, I do have a couple more questions for you that I always ask at the end of each episode. And the first one is what is something you cannot live without when you're doing a photo shoot.
00:46:57:10 – 00:47:28:28
A plan? I am I am definitely type A. And so to walk into a photo session without some sort of plan, I just get lost and I don't do nearly as well. So that's why I have those consults. So I have in writing what my clients like, what they don't like. I know exactly how I'm going to set things up and that honestly allows my brain to be more creative because I have that plan.
00:47:29:00 – 00:47:42:25
But then if I need to take a left turn or I'm able to do something a little bit more creative quickly because my brain isn't trying to work out the entire plan. So a plan is something that I could not live without in a photo shoot.
00:47:43:06 – 00:47:48:26
Good answer. Very smart. Okay. Number two, how do you spend your time when you're not working?
00:47:49:19 – 00:48:20:00
Well, my family would joke and say photography is what I do. So my daughter tells me often that I need to get a hobby. But I. I enjoy doing the creative work when I'm not working, the more intricate things that are involved in that, and then also thrifting and that sort of thing. But completely away from photography. I enjoy spending time growing in my faith.
00:48:20:14 – 00:48:24:24
I enjoy time with my family and friends.
00:48:25:04 – 00:48:26:10
What did you say? Growing where?
00:48:26:27 – 00:48:34:15
Growing in my faith. So just time in the Bible, time doing devotions, that sort of thing.
00:48:34:17 – 00:48:43:14
Okay. I thought you said going to MySpace, I'm like, you still have MySpace. I was like, no, that was my fault. Oh, my gosh. My my ears and my brain. Okay. Sorry.
00:48:44:05 – 00:48:47:25
That's good. MySpace. They're similar.
00:48:47:27 – 00:48:52:20
Right? Sorry. MySpace. Yes. But my faith is very different than MySpace.
00:48:52:28 – 00:48:53:23
Yes.
00:48:54:27 – 00:48:56:24
All right. Sorry. Continue.
00:48:58:28 – 00:49:29:11
No, I enjoy spending time with my family and friends. They're they're my number one, my family, especially. So any chance I get to spend time with them I do. But overall, honestly, I'm just trying to enjoy the moment, no matter where it is, no matter what it is. I just I don't want to let a single second slip by and and not find joy in it. So that's what I try to do in life.
00:49:29:13 – 00:49:36:12
Wonderful. Yeah. Awesome. Okay. Number three is what is your favorite inspirational quote?
00:49:37:07 – 00:50:07:21
So kind of to piggyback on the faith thing. My inspirational quote is from the Bible is verse Peter 410, which says, Each of you should use whatever gift you have received to serve others as faithful stewards of God's grace in its various forms. I truly believe that this career, these skills that I have, this life that I live, it is all a gift to me. So the least that I can do is serve others with it.
00:50:07:23 – 00:50:38:10
So that could mean something philanthropic like, you know, being a part of an organization or through my church or doing my own events to benefit those in special needs. But it can also mean just simply serving my clients and helping them to see the beauty in their uniqueness. So, so that is why it's my inspirational quote. And, and it is so inspirational to me that I have the verse tattooed on my trigger finger.
00:50:38:12 – 00:50:39:22
So there you go.
00:50:40:03 – 00:50:40:18
Yeah.
00:50:40:28 – 00:50:42:11
Awesome ties all together.
00:50:44:04 – 00:50:49:08
Very cool. Okay. And last question is, what would you say to people who are just starting out?
00:50:50:13 – 00:51:07:22
So I would tell them to never stop learning, not only never stop learning, but enjoy the process of learning. So don't hinge your joy on getting to a certain level, because to arrive means that it's over. So
00:51:09:13 – 00:51:21:11
every single part of the process and enjoy what you have learned through, you know, what could be perceived as a failure and celebrate the wins, but continue to learn for the rest of your life.
00:51:22:01 – 00:51:26:21
Love it. Awesome. Well, thank you again, Erica. Where can people find you online?
00:51:27:08 – 00:51:41:13
So website is EricaManningPhoto. That's Erica Manning photo.com. Facebook. It's Erica Manning Photography. And Instagram. It's Erica Manning Photo.
00:51:41:23 – 00:51:49:04
Awesome. We're thank you again. I will see you. Hopefully I'll see you soon in person, but I will definitely see you in The Portrait System Facebook group soon.
00:51:49:06 – 00:51:52:26
Yes. Yes. Thank you so much. I really enjoyed this talk today.
00:51:53:05 – 00:51:55:16
Awesome. Fantastic. I will talk to you soon.
00:51:55:27 – 00:51:56:29
Sounds great. Thanks.
00:51:57:26 – 00:52:38:10
This is the Portrait System Podcast, a show that helps portrait photographers and people hoping to become one. Navigate the world of photography, business, money and so much more. We totally keep it real. We share stories about the incredible ups and the very difficult downs when running a photography business. I'm your host, Nikki Closser, and the point of this podcast is for you to learn actionable steps that you can take to grow your own business and also to feel inspired and empowered by the stories you hear.
Thank you so much for listening to the Portrait System Podcast. Your five-star reviews really help us to continue what we do. So, if you like listening, would you mind giving us a review wherever you listen? I also encourage you to head over to SueBryceEducation.com, where you can find all of the education you need to be a successful photographer. There are over 1,000 on-demand educational videos on things like posing, lighting, styling, retouching, shooting, marketing, sales, business, and self-value. 
There's also the 90 Day Startup Challenge, plus so many downloads showing hundreds of different poses. We have to-do checklists for your business, lighting PDFs, I mean truly everything to help make you a better photographer and to make you more money. Once again, that's SueBryceEducation.com.