Select a question below for details
Eligibility Rules
What is the full list of Eligible Countries?
United States of America
All 50 US STATES
THE CASH PRIZE IS VOID IN THE STATES OF ARIZONA, CONNECTICUT, MARYLAND, AND NORTH DAKOTA, but residents of these states can still participate.
—American Samoa
—Baker Island
—Guam
—Howland Island
—Jarvis Island
—Midway Islands
—Navassa Island
—Northern Mariana Islands
—Puerto Rico
—Virgin Islands U.S.
Australia
—Ashmore and Cartier Islands
—Christmas Island
—Cocos (Keeling) Islands
—Coral Sea Islands
—Heard and McDonald Islands
—Norfolk Island
Austria
Belgium
Bulgaria
Canada
Chile
China
Hong Kong
Taiwan
Costa Rica
Czech Republic
Denmark
Faroe Islands
Greenland
Estonia
Finland
France (Includes French territories)
Germany
Greece
Hungary
Ireland
Israel
Japan
Korea, North
Korea, South
Latvia
Lithuania
Luxembourg
Malaysia
Malta
Netherlands
—Aruba
—Curaçao,
—Sint Maarten
—Netherlands Antilles
—Bonaire
New Zealand (Aotearoa)
—Cook Islands
—Niue
—Tokelau
Norway
—Jan Mayen
—Svalbard
Panama
Peru
Poland
Portugal
Romania
Singapore
Slovakia
Slovenia
South Africa
Spain
Sweden
Switzerland
Ukraine
United Kingdom
—Anguilla
—Bermuda
—British Indian Ocean Territory
—British Virgin Islands (BVI)
—Falkland Islands
—Gibraltar
—Guernsey
—Isle of Man
—Jersey (Channel Island)
—Montserrat
—Pitcairn Islands
—Saint Helena
—South Georgia and the South Sandwich Islands
—Turks and Caicos Islands
What is the full list of Ineligible Countries?
Afghanistan
Albania
Algeria
Andorra
Angola
Antigua and Barbuda
Argentina
Armenia
Azerbaijan
The Bahamas
Bahrain
Bangladesh
Barbados
Belarus
Belize
Benin
Bhutan
Bolivia
Bosnia and Herzegovina
Botswana
Brazil
Brunei
Burkina Faso
Burundi
Cambodia
Cameroon
Cape Verde
Central African Republic
Chad
Colombia
Comoros
Congo, Republic of the
Congo, Democratic Republic of the
Cote d'Ivoire
Croatia
Cuba
Cyprus
Djibouti
Dominica
Dominican Republic
East Timor (Timor-Leste)
Ecuador
Egypt
El Salvador
Equatorial Guinea
Eritrea
Ethiopia
Fiji
Gabon
The Gambia
Georgia
Ghana
Grenada
Guatemala
Guinea
Guinea-Bissau
Guyana
Haiti
Honduras
Iceland
India
Indonesia
Iran
Iraq
Israel
Italy
Jamaica
Jordan
Kazakhstan
Kenya
Kiribati
Kosovo
Kuwait
Kyrgyzstan
Laos
Lebanon
Lesotho
Liberia
Libya
Liechtenstein
Macedonia
Madagascar
Malawi
Maldives
Mali
Marshall Islands
Mauritania
Mauritius
Mexico
Micronesia, Federated States of
Moldova
Monaco
Mongolia
Montenegro
Morocco
Mozambique
Myanmar (Burma)
Namibia
Nauru
Nepal
Nicaragua
Niger
Nigeria
Oman
Pakistan
Palau
Papua New Guinea
Paraguay
Philippines
Qatar
Russia
Rwanda
Saint Kitts and Nevis
Saint Lucia
Saint Vincent and the Grenadines
Samoa
San Marino
Sao Tome and Principe
Saudi Arabia
Senegal
Serbia
Seychelles
Sierra Leone
Solomon Islands
Somalia
South Sudan
Sri Lanka
Sudan
Suriname
Swaziland
Syria
Tajikistan
Tanzania
Thailand
Togo
Tonga
Trinidad and Tobago
Tunisia
Turkey
Turkmenistan
Tuvalu
Uganda
United Arab Emirates
Uruguay
Uzbekistan
Vanuatu
Vatican City (Holy See)
Venezuela
Vietnam
Yemen
Zambia
Zimbabwe
It is possible that not all countries have made it on this list. If you aren't sure if your country qualifies, please email us: support@theportraitmasters.com
Do the eligibility rules apply to both The Portrait Masters Awards and the Accreditation programs?
It is helpful to think of The Portrait Masters Awards as a separate program from Accreditation. We want as many people as possible to be able to participate in both programs—to be eligible to win category awards, and to earn points toward accreditation. In some cases, however, photographers who are ineligible for The Portrait Masters Awards may be eligible for The Portrait Masters Accreditation. Others may be eligible for the Awards and Accreditation programs but may not be eligible to win a cash prize. The best thing you can do is refer to the rules to find out if there are any specific rules regarding your eligibility.
If my country is not listed this round, does this mean that I can no longer work to accumulate points towards Accreditation?
Not necessarily. If you are not eligible for Awards or Accreditation this round, it is possible you will be eligible for future rounds. Please check eligibility requirements in future rounds.
If my country is not listed this round, does this mean that I can no longer compete for Category Awards (trophies/prizes) ever again?
Not necessarily. Every time we open a new round, please refer to the rules page for eligibility updates as they may change from time to time.
If you are a citizen of a country that is allowed to enter, but are currently living in a country not allowed to enter, can you still enter?
The rules are based on your state or country of residence. If you are a resident of an eligible state or country, you are eligible to participate.
Can I still participate if my country is not listed but I have a free entry?
No. Eligibility is determined by your state or county of residence. Free entry holders will not be able to participate if they are not eligible under the current contest rules.
If I can't use my free entry, can I give it to someone else or get a credit?
No, unfortunately these are non-transferable and we are unable to give a credit.
If I can only participate in Accreditation, do I have to pay the same fee per image?
Will there be any discounts or special considerations for participants who are excluded from participating this round because of these updates? Will I still be able to use my free entry?
Yes. If you are unable to submit images to the Accreditation program this round because your country is not currently eligible, please email support@theportraitmasters.com to evaluate your options.
What if I spent a lot of time and money building up my accreditation status? Is this the end of the road for me?
No, this is not the end of the road, if anything, just a speed bump. Residents of all the US States and most countries can participate in accreditation. However, if you are not currently eligible—hang tight. We are in the process of reviewing rules and regulations in other countries to determine if residents of those countries can participate in Awards, Accreditation or both. We will update the rules before each round, and we hope to be able to add to the list of eligible countries. We appreciate your patience as we continue to work towards this goal. If you are ineligible to participate in Accreditation this round, please reach out to support@theportraitmasters.com to evaluate your options.
How does it work if I'm eligible to participate in Accreditation but not the Awards?
The entire submission process is exactly the same—you submit your images, the judges review them, and you will receive a score and points towards your Accreditation. The only difference is that your images are not eligible for the Awards or prize money.
What if I have a question that isn't covered in this FAQ?
Please email support and we'll help: support@theportraitmasters.com
The Rules
Where can I read the full rules?
We highly recommend reading the rules before each new round. You can read the fully updated rules HERE.
Can I outsource my retouching?
All editing/post production/retouching must be done by the entrant or under the entrant's direct instruction. If your entry was also edited/retouched in any way by another individual, you must credit that individual in your online submission.
Submissions into the Creative Portrait category cannot have outsourced retouching.
The option to put the retouchers name is ONLY NECESSARY if you outsourced Some or all retouching to someone other than yourself.
Is it ok to use other peoples photos just as a background or as a minor element in my entry?
No. All photography and elements within your entry must be photographed and owned by you.
Can I download an old painting that has had its copyright expired and use in my entry?
No.  The use of other peoples work in a digital form within your entry is not allowed. Whilst copyright may not apply in a legal term, it is against the spirit of The Portrait Masters Awards and Accreditation.
Can I use textures which I have purchased or created with third party software?
Yes, as long as the texture is as described by definition in rule 2.1.
Can I create graphics or type and include in my entry?
Yes, as long as they have been photographed with a camera.
Can I use an image I took on my travels four years ago if it's just as the backdrop?
Yes, due to the pandemic we are allowing older images to be submitted with the exception of images that have been previously submitted and judged in The Portrait Masters Awards & Accreditation program.
Can I use elements which have been created by CGI or 3D modelling?
No. Computer generated Imagery is not permitted.
Can I enter a photograph or element that I took at a workshop?
No. Not unless you were the instructor.
I've seen a concept done by another artist/photographer. Can I recreate this idea?
No, we consider this to be plagiarism.The spirit of The Portrait Masters Awards and Accreditation is to celebrate and honor your own creative expression.
Can I enter a child portrait themed with a Christmas Grinch?
Not if it is themed around a trademarked character.
I have a purchased texture which contains flowers. Can I use this?
No flowers are a distinguishable object.  Textures must represent a surface where the object is not identifiable.
Submitting Images
When can I submit images?
You can submit images in our next round between 12:00AM EST  September 15th, 2022 – 11:59 PM Pacific Time October 15th, 2022.
How should I name my submission? Does it need my name on it?
File names can be anything you like, there are no rules for this. Images must not have watermarks or logos though.
What size file should my submission be?
Image must be a JPG file, 2500 pixels minimum on the longest edge, 4800 pixels maximum on the longest edge. For a great tutorial on sizing your images, check out this video from Pratik Naik:
What color profile should my images be (sRGB or RGB)?
We need all submissions to be in true sRGB.
Here's how to assure your images have the correct color profile:
LIGHTROOM
1. Right Click image | EXPORT | EXPORT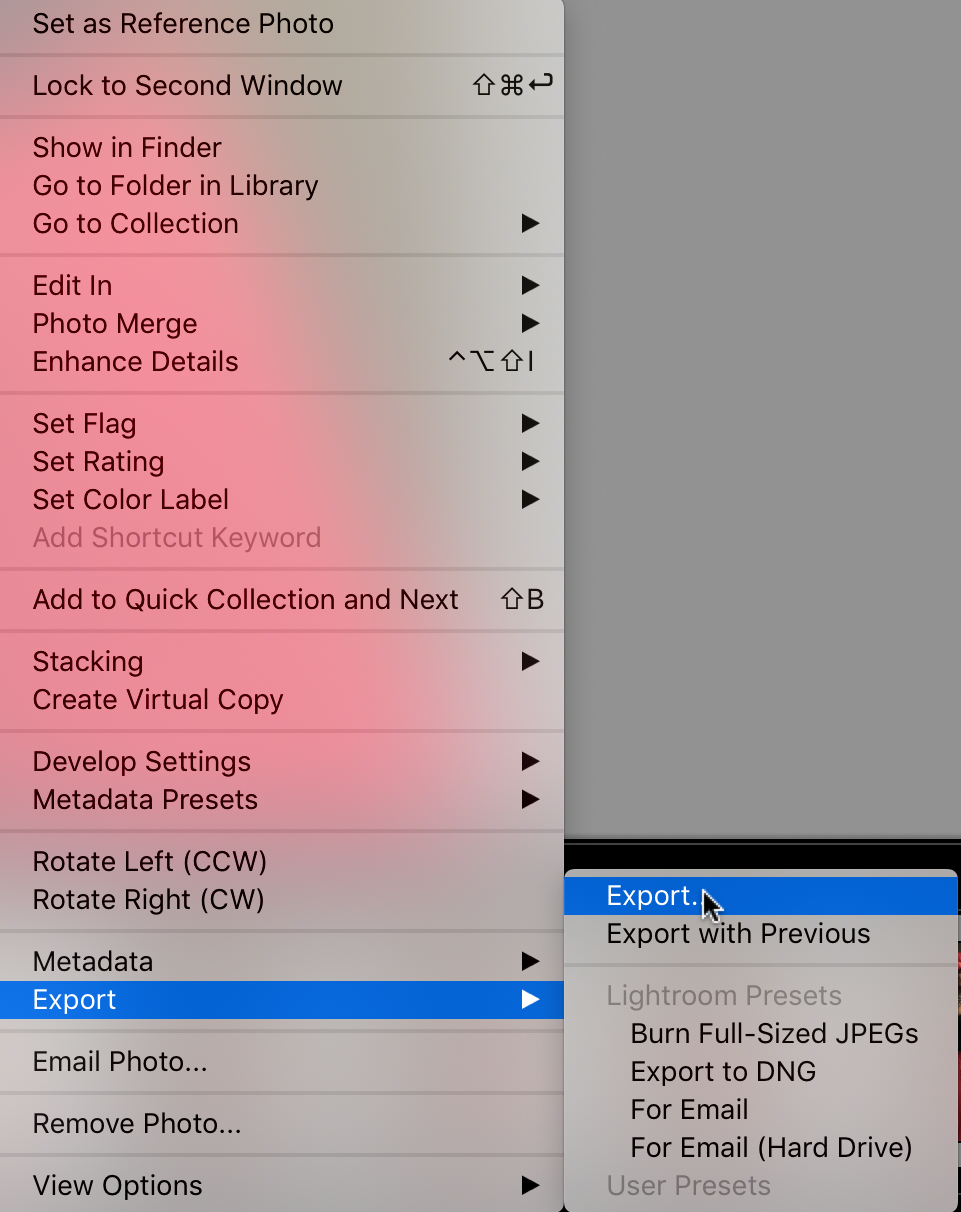 2. Under 'File Settings' make sure 'Color Space' is sRGB.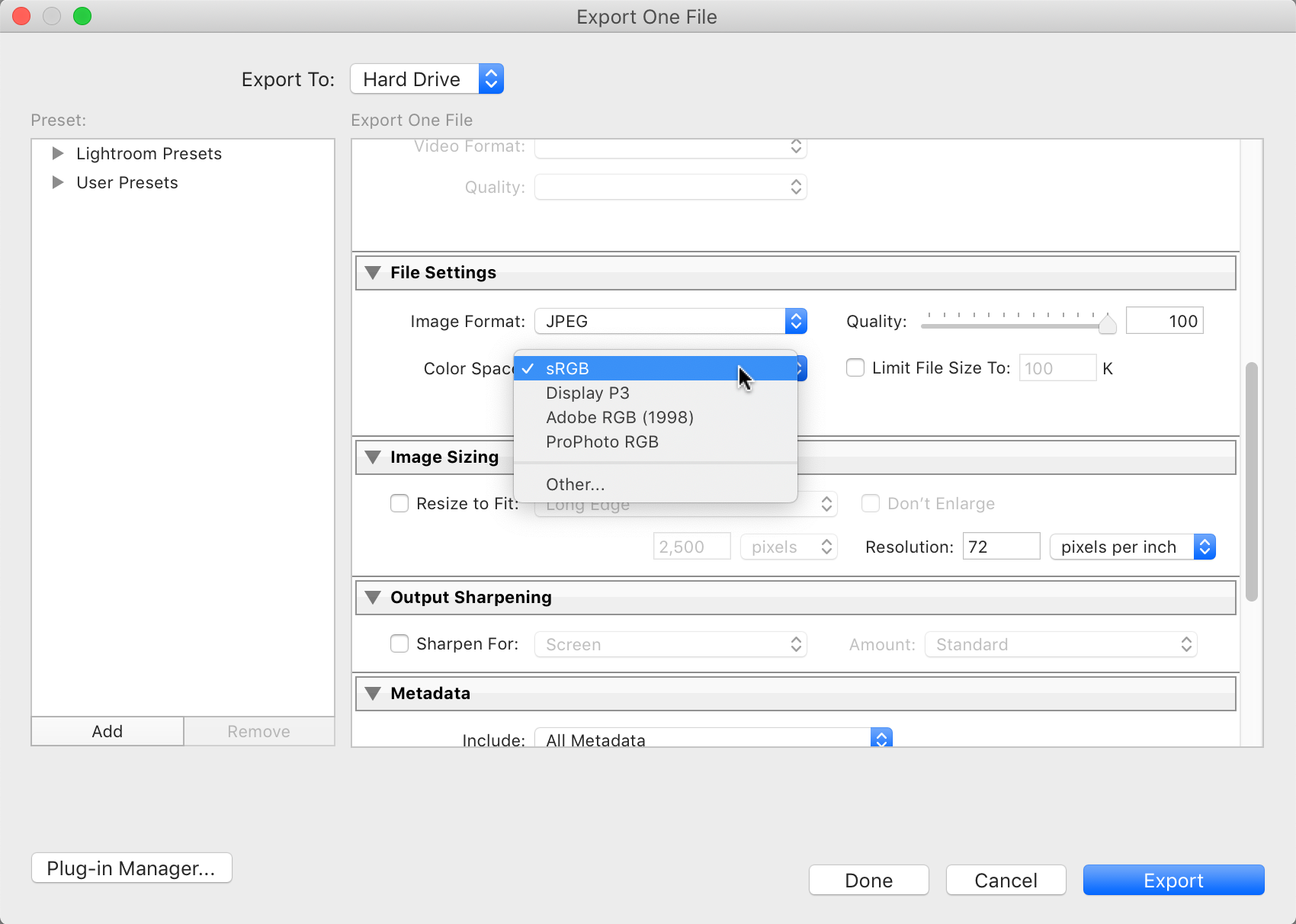 PHOTOSHOP
1. EDIT | CONVERT TO PROFILE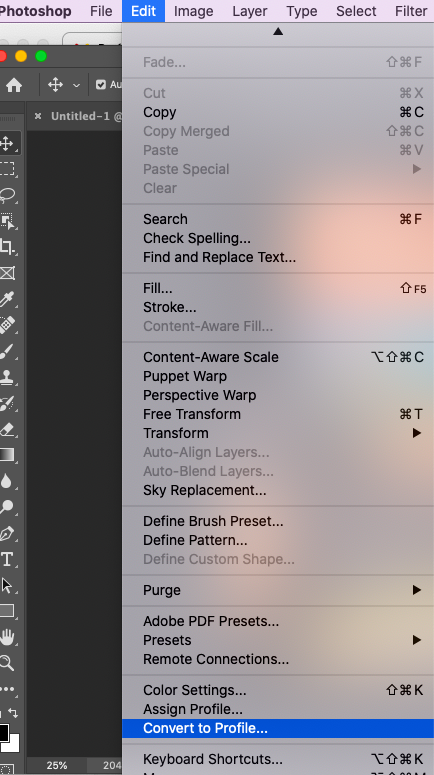 2. Select sRGB IEC1966 2.1

3. Save As. Select JPG and make sure 'Embed Color Profile' is ticked.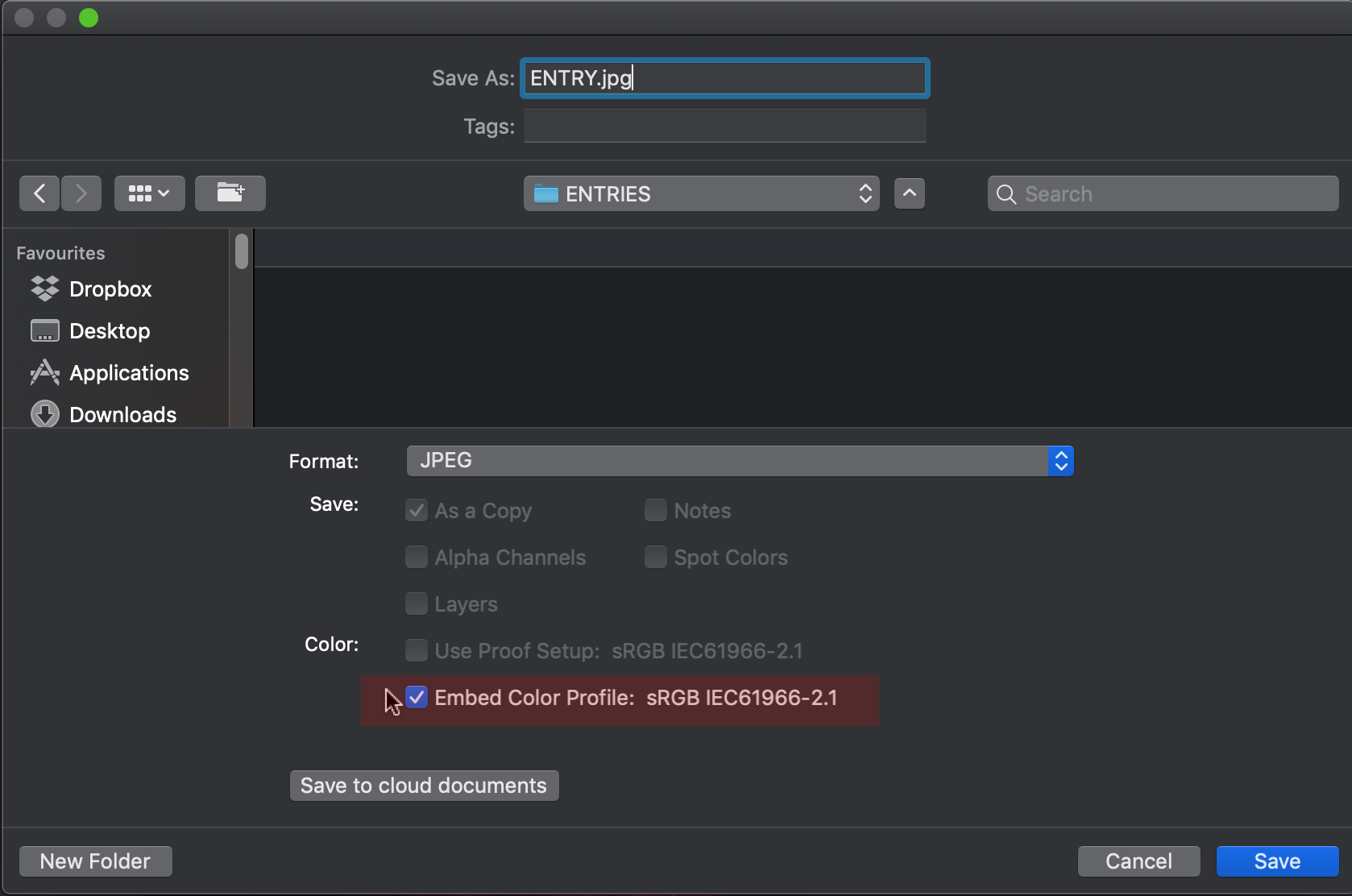 Can we use purchased textures in our images (Alien Skin or others)?
Yes, purchased textures are allowed.
I have a watermark/logo on my submission. Is that okay?
No. Watermarks/logos will disqualify your submission, so please triple check your submissions before entering them.
Am I able to swap my already submitted image with a different version?
No changes to your image can be made after your image has been uploaded and paid, please double and triple check your entry before finalizing your payment.
Where can I view all the submitted photos? Can I view all the submitted photos?
When judging is complete, you can view all of your submissions in your SBE account under the "My Account" section. During the judging process, you will not be able to see your submissions, or anyone else's.
I have a concern about a submission I sent. Who do I reach out to?
Please email our support team: support@theportraitmasters.com
Can I submit images I shot at The Portrait Masters Conference in the shooting bays?
Unfortunately, no—these will not qualify for entry.
What is Image Feedback and what can I expect if I select it?
You can choose to receive feedback for any image that you submit for an added fee of $10. If you select feedback for your submission, you will receive constructive critique on your image from two judges.
Judging and Awards
How does the point system work?
Accreditation Points and Awards Merits
– Score 60-69: No Merit Points
(Approaching Professional Standard)
– Bronze 70-79: Half Merit Point
(High Professional Standard)
– Silver 80-89: One Point
(Outstanding technique & visual communication)
– Gold 90-100: Two Points
Exemplary / Superior / Exceptional
Silver and Gold Merits seek excellence in all technical fields with outstanding visual communication and narration.
———–
25 Merit Points
The Portrait Masters – Associate Photographer
YELLOW RIBBON
50 Merit Points
The Portrait Masters – Master Photographer
RED RIBBON
100 Merit Points
The Portrait Masters – Fellow Photographer
BLACK RIBBON
Upon successfully reaching your required points level for MASTER, your folio will be manually reviewed to ensure your current work is of a consistent, good professional standard which reflects the accolade and title of 'Master' within The Portrait Masters. In order to reach FELLOW, you must have at minimum 10 images with silver or gold merits in your folio..
What is the judging criteria?
The judges are looking for expression and connection, Styling, Composition, posing, lighting, Overall Technique and Presentation, post-production and focus. Review the "judging criteria" on the awards home page for more detail.
Why didn't my image get a better score?
There could be many reasons your image didn't receive a higher score. Review the "judging criteria" section of the awards home page for a list of common mistakes. Members of The Portrait System can also receive more helpful feedback by watching Richard Wood's Awards & Accreditation critiques.
When will I get my certificate? Or award?
Once enough points are accrued to reach an accreditation level, your images will be reviewed by Sue Bryce. Certificates will be mailed after her review. 
I won first place in a category. Is there a badge for this?
First place winners of a category will receive a crystal trophy. There are badges for merit winners and accreditation levels, but not for category winners.
Accreditation
HELP! I'm confused regarding the changes in the rules regarding advancing to Master.
If I get one below professional standard in my last two rounds does that mean I miss my masters accreditation?
Yes. The level of Associate is given to those that can show they can produce work at a professional standard. The level of Master donates that someone has mastered their craft and is of a high standard. At a Master level, listed on the Portrait Masters directory, your clients should be able to assume that they will not receive below professional standard of work. Therefore we require you to show that you can perform consistently at a professional standard  for at least your last 20 image entries.
It is already hard to get to Master level. Why have you made it even harder?
The level of Master is not one to be given out to everyone that buys enough entries and passes through. Not everyone is entitled to it and it must be earned. The level of Master is a distinction that recognises mastery of craft and merit rather than simply numbers of entries at a professional standard. Whilst for many the benchmark may seem difficult, our Portrait Masters Master level is very much more easily obtainable than most accreditation and awards programs.
Do I have to be really good at editing to achieve my silvers? It sometimes seems like it.
No. Editing is certainly now part of the industry. However many awards have and will be awarded to images that do not have heavy editing. There is often a high number of largely edited images being awarded, more recently as this has been what is largely entered by many of our top entrants. Many of our judges create and been highly awarded with images in other styles and will award entries by their merit heavily edited or not.
When avoiding 'below professional standards', Do I have to enter two rounds consecutively?
No, your entries will be taken into account over the last two you do enter, so you can miss rounds in between.
What if I have already been awarded my Masters but not sure I have the new requirements?
Entrants that have been awarded Master from past rounds will be 'Grandfathered' and continue to be Masters. To achieve your Fellow status however, you will have had to have first achieved the current requirements first.
Why is 73 the set average needed to be achieved for Master?
70 is the required points needed on an entry to deem it of a professional standard. An ASSOCIATE of the Portrait Masters is recognised as being able to perform to this professional standard. However a MASTER should be able to perform at a consistent high professional standard. Our judges deem a high professional standard as being 75 and above and all judges have unanimously agreed that a high professional standard and above should be where a Master can consistently perform. However the Portrait Masters Team has given some leniency and made the required average 73.
Why can't a Master status be awarded through an impressive accumulation of 50 points alone?
We have had entrants achieve their 50 points required for Master by entering hundreds of images, the majority of which have been below professional standard and the lesser being in the low professional standard, but with enough entries over time to gain their points. Whilst the entrant may have achieved a number of points, their standard is far from that assumed by one calling themselves a Master. Therefore we have added 3 silvers so a photographer can show that they can perform very occasionally at a higher award level, and also consistently produce work that is of a very solid professional standard and higher.  We wish to award the level of Master to those that are achieving at a higher level rather than to those that buy the most entries and marginally get through on lower points alone.
What if I only enter 4-5 each round?
That is fine. If you entered 4 per round, your last 20 entries would be made up of the last 5 rounds you entered.
What if I entered 12 images in my last round and 13 images in the round before that? That equals 25 entries. Which will be judged?
Your average is taken over the total of however many rounds your last 20 entries has occurred over. So in this instance your average would be taken over your total of 25 entries.  I you entered 30 entries in the last round, then your average would be taken over all entries in your last round.
If I already have my FELLOW, Do I need to worry about these changes too?
No, If you have already achieved your Fellow distinction these changes do not apply to you.
Why don't you just average someones entire portfolio that they've already done?
Because we believe that an entrant should be judged on their current work as apposed to their work when starting out or growing towards becoming the photographer they are now and today.
Warm Regards
What does it mean to be an accredited photographer?
Portrait Masters accredited portrait photographers have proven their work is of high professional standards. In addition to winning awards on a minimum of 12 images, their portfolio has also been manually reviewed by Sue Bryce to ensure their work is truly worthy of receiving accreditation. The Portrait Masters accreditation program is explicitly for portrait photographers of all genres and is a recognition of high professional standard—not based on awards merit only.
Do I get a critique with my accreditation points?
No, written critiques are not provided with accreditation results.
Where can I use my accreditation badge?
All successful merited Associates will receive: A logo to display on your website, "Accredited Portrait Master" and will be added to the accredited photographers database. A certificate for the studio, a yellow ribbon, and achievement medallion.
I've reached an accreditation level in this round of submissions, why isn't this immediately reflected in my account? I've earned enough points.
Upon successfully reaching an accreditation level, your folio will be reviewed. Once the review is complete, accreditation will be announced and reflect in your account.
General
Can I pay with PayPal?
No, unfortunately PayPal is not an option for awards submissions.
My image won a badge. Can I make my badge into an award?
Congrats on having an image that scored Bronze or higher- however, this is not the same as winning an accreditation level. Badges are meant to highlight the specific image only, and cannot be made into homemade trophies, certificates, etc.
Where can I learn more about Awards and Accreditation?
I'd like to have a link to share my award-winning image with family/friends/clients. Is there a link for the Portrait Masters website?
I have free entries from previous rounds. May I use them this round?
Free entries are only good for the round you received them with, any past free entries will no longer be valid.